Shanghai's visa-free policy lifts tourism
Shanghai authorities said the city's policy allowing citizens from 45 nations to stay up to 72 hours in the city without a visa has noticeably boosted tourism.
But business insiders said a lot more can be done to bring more transit passengers to the city amid an overall drop in inbound visitors this year.
According to figures provided by the border inspection departments at the city's Hongqiao and Pudong airports, the number of passengers benefiting from the policy has continued to rise since the beginning of this year, when tourists from countries including the United States, Japan, France and Australia were permitted a 72-hour visa-free stay if they hold third-country visas and plane tickets.
By Sept 1, around 8,300 foreigners had benefited from the policy, the inspection departments said.
In August alone, about 1,300 air passengers took advantage of the scheme - the most in a single month and a 95.2 percent rise from January.
US citizens made the most use of the policy, with 1,200 making three-day visa-free stays in Shanghai in the first eight months.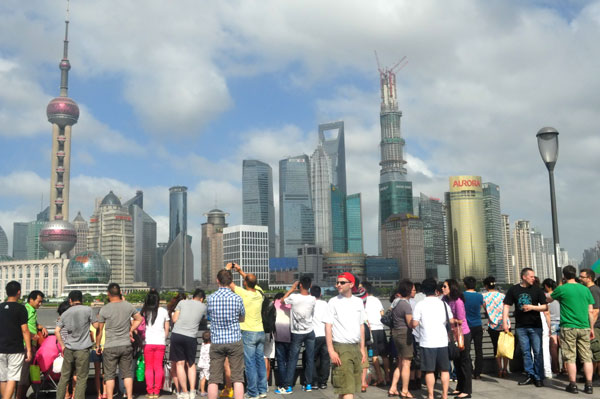 Tourists admire the skyline in Shanghai, which allows foreigners to visit for up to 72 hours without a visa. Since the new policy was implemented in January, some 8,300 foreign transit passengers have made use of the policy, according to the city's border inspection department. Yan Daming / for China Daily
More than 670 tourists from European countries that have frequent exchanges with China, including Germany, France and the United Kingdom, also benefited from the policy during the period.
Shanghai is also trying to consolidate its status as a global hot spot by allowing visitors arriving by passenger liners to spend three days in the city without a visa.
Pending approval from the central government, the city plans to extend the policy to cruise terminals, and set up duty-free stores and tax-refund outlets there.
But tourism experts said on Thursday that the rise in transit passengers is lower than they expected.
"There could be more (passengers attracted to the city by this policy)," said Zhao Huanyan, senior researcher at the Tourism Research Institute under the Shanghai Academy of Social Sciences.
He said the number of transit passengers is dragged down by the overall drop of inbound tourists.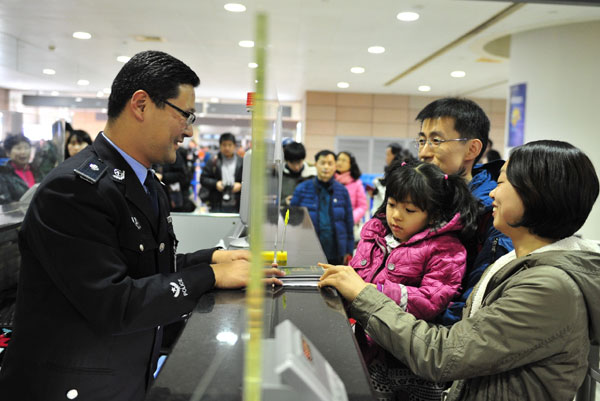 Although the specific figure for Shanghai is unavailable, Beijing tourism authorities say the number of overseas tourists across the nation fell by 4.2 percent year-on-year in the first six months of 2013, partly caused by a stronger yuan and a weak global economy.
Among them, the number of foreigners dropped 7.1 percent during the period.
Tourism authorities did not do their best to promote the 72-hour visa-free policy, Zhao said.
"An important job in many foreign countries tourism departments is to promote inbound tourism. But in our country, it is apparently not so, and there is much room for improvement," he added.
Some travel agencies in Shanghai also said they did not see their business increase through the policy.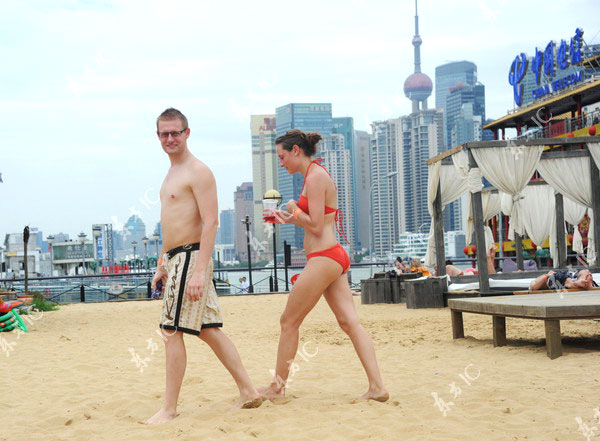 "I have said many times that most of those who seek to benefit from the policy are business travelers, and they are not our target customers," Yuan Zukang, a manager in charge of inbound travel at the China International Travel Service in Shanghai, said on Thursday.
"Most of them are passengers staying for business purposes for a very short term," he said.
Some high-end hotels said they benefited from the surge of transit visitors, but their performance is overshadowed by a drop of occupancy rate caused by the ban on the lavish lifestyles of officials and the oversupply of hotel rooms.
A recent poll by Hotelsolution, a consulting company focusing on the hotel and real estate industries, shows that the occupancy rate at Shanghai's four- and five-star hotels dropped from 10 to 20 percent in the first half of this year, while their revenue from catering services shrank by up to 40 percent.
Beijing, another city that introduced the 72-hour visa-free policy from Jan 1, has also not had the expected effect and vowed to step up its promotion.
The weak global economy has deterred many potential travelers from Japan and South Korea, with tourist arrivals from Japan falling by 54.5 percent and from South Korea by 22.3 percent in the first six months.
Now four cities, Shanghai, Beijing, Guangzhou and Chengdu, employ the 72-hour visa-free policy.
Transit passengers arriving at Guangzhou Baiyun International Airport are allowed to stay in the Guangdong provincial capital for three days without a visa and to visit anywhere in the province during their trips.
Kunming, capital of Yunnan province, plans to be the fifth.
Yunnan Airport Group said last month that it and Yunnan's provincial tourism development commission planned to apply for 72-hour visa-free stays for international passengers at the Kunming Changshui International Airport in the second half of this year.