Castles and palaces on two continents find common ground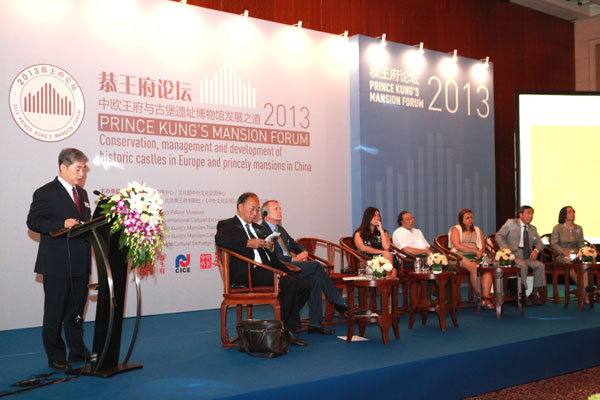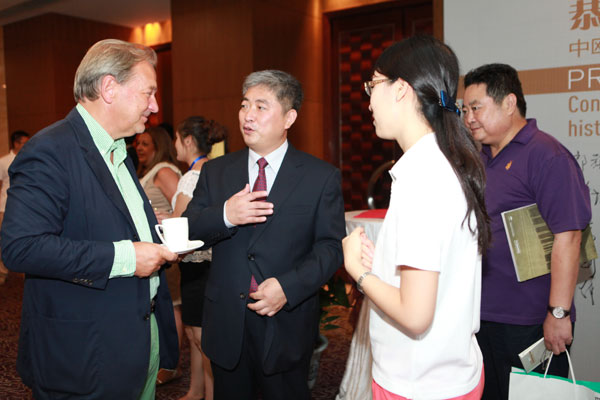 Prince Kung's Palace Museum director Sun Xuguang (middle) talks with a foreign participant at Prince Kung's Mansion Forum. Provided to China Daily
Once symbols of status and glory at two ends of the world, European castles and Chinese princely mansions are now looking to each other to explore ways to thrive in the modern time.
Delegates from 18 European castles and nine Chinese palace museums discussed how aristocratic heritages can develop sustainably while maintaining their historic value at Prince Kung's Mansion Forum in Beijing from Aug 28 to 30.
The forum allowed both sides to share experiences and learn from each other to better protect heritage architecture, says Sun Xuguang, director of Prince Kung's Palace Museum.
"Historic castles in Europe and princely mansions in China face many common problems. It is time for us to sit down and discuss them together," Sun says.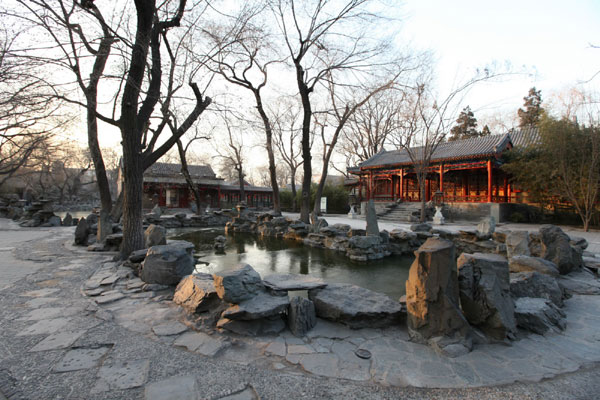 [Photo/Provided to China Daily]
One of the paradoxes European castles and Chinese palaces share is how to balance commercial success and heritage protection.
"We have been discussing for a long time about whether we should do business in a place of cultural heritage value," says Franz Sattlecker, managing director of Schonbrunn Palace in Austria. "The answer is 'yes'. But it has to relate to the culture and history of the venue."
A gift store and retail business provide important income for the Schonbrunn Palace, making 22 percent of its revenue.
In China, museums tend to sell similar souvenirs regardless of the locale, which is detrimental to the image of the venue, says Bian Wei, deputy director of Prince Kung's Palace Museum.
The museum developed a series of products about Fu culture, or the culture of blessing, based on the Fu inscription by Emperor Kangxi, one of the signature attractions in the mansion.
"A good souvenir is not a simple piece of merchandise. It is an ambassador of the culture and history of the site," says Bian.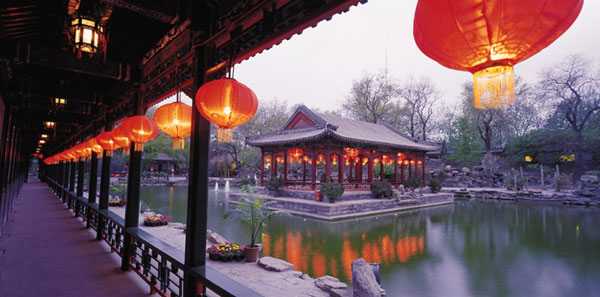 [Photo/Provided to China Daily]
The mansion also worked with designers to develop more than 2,000 kinds of souvenirs based on the history of the place.
Apart from offices and exhibitions, the ample rooms of the palaces should be used in a more diversified way, says Sattlecker from Schonbrunn Palace. With more than 165 rooms, the Schonbrunn Palace can provide accommodation for 450 people.
"If these rooms are not constantly occupied, they would bring both safety and maintenance issues," says Sattlecker, adding that accommodation now makes 15 percent of the revenue.
Prince Kung's Mansion is the largest mansion for a prince of the Qing Dynasty (1644-1911), serving consecutively as the residence of He Shen, Emperor Qianlong's favorite minister and Prince Kung, brother of Emperor Jiaqing.
"Prince Kung's Mansion is the best among the 19 mansions from the Qing Dynasty in terms of history, space and scale," says Zhu Chengru, vice director-general of China National Committee of the Compilation of the Qing Dynasty's History.
But what really sets the mansion apart is the people who lived in it, and the architecture should be restored in a way that tells their stories, says Zhu.
The mansion decorated the rooms as they were done by their owners. The same approach was taken by curators at Chateau de Chenonceau in France.
"For example, after Catherine de' Medici's husband died, she lived in a room that was painted black. And we carefully presented it as it was at that time," says He Siyang, PR manager for China at Chateau de Chenonceau.
Compared to European castles, ancient architecture in China still lacks an effective management model, says Ge Jianxiong, professor of history at Fudan University.
Unlike Schonbrunn Palace, Prince Kung's Mansion and its like are now directed by the government, rather than an independent organization.
"It is usually the will of the authority and the officials, rather than a consistent idea, that decides how the place is managed," says Ge. "As a result, the architecture heritages in China are very vulnerable in the face of tourism and profit."