Airline news and deals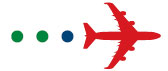 To mark the birth of the royal baby, British Airways is offering complimentary flights for all infants traveling from Beijing, Shanghai and Chengdu to London. Children under 2 can take advantage of the return offer to London, which is valid for booking by July 31 and for travel before Dec 31.
www.britishairways.com.
Sichuan Airlines offers some 1,000-yuan ($163) round-trips (tax not included) until Sept 23. Round-trip flights between Chengdu and Melbourne are available at the rate for stay-overs shorter than 30 days until Sept 23.
www.scal.com.cn.
China Eastern Airlines' round-trip tickets between Hangzhou and Bangkok could be discounted to 1,880 yuan (tax included) until Aug 29 - so long as the stay is exactly seven days.