Tour brings cycle of success to Qinghai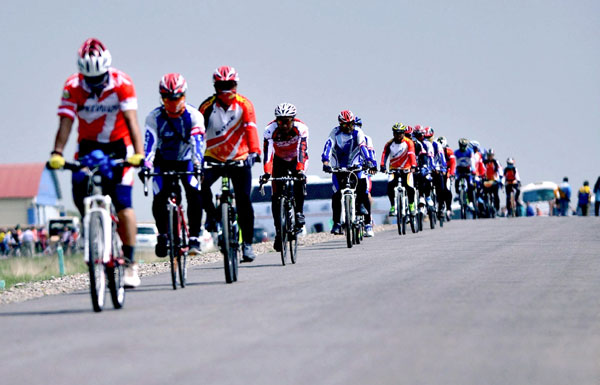 Cyclists head to Qinghai Lake in Xihai Township, Qinghai province, on July 2. Wang Bo / Xinhua
The Tour of Qinghai Lake has seen the area's tourism enjoy a cycle of success.
As the only annual international sporting event held in Northwest China, the bike race has been leading the pack in attracting visitors since its debut in 2002.
According to the organizing committee, tourism-related businesses, including transportation, accommodation and retail, have enjoyed a boom.
The two-week event last year saw the businesses rake in 115 million yuan ($18.7 million).
The direct expenditure of the participating teams and their entourages, as well as spectators, accounted for almost half of the sum.
"It's all about the two weeks," said Feng Jianping, chief of Qinghai Sports Bureau and deputy director of the organizing committee.
"Most of the visitors coming for the race will stay for a few extra days, so you can just imagine how big their impact would be during a longer stretch."
Figures released by the Qinghai Tourism Bureau showed that the province welcomed more than 15 million tourists last year while netting total tourism-related revenue of 12.2 billion yuan.
This was a twelvefold increase from its debut year.
"The event played a significant part in putting Qinghai on the world cycling map," Feng said.
Grabbing the yellow jersey for traffic and infrastructure advantages, some towns along the route have become hot destinations for leisure cycling activities, with riding clubs and bicycle rental businesses flourishing in recent years.
Located on the northeast bank of Qinghai Lake, Xihai Township, where the country's first atomic and hydrogen bombs were developed in the 1960s, has reinvented itself as an amateur riding base with more than 20 clubs.
These clubs offer a range of services to tourists and are a font of local knowledge for inquiring minds who might want to venture off the beaten, or in this case, cycled, track.
According to Yu Xihai, founder of the town's first and biggest club, "Riders' Camp", at least 100,000 amateurs cyclists head for Qinghai Lake every year and they pump an estimated 80 million yuan into the local economy.
Providing affordable bike rentals from 50 yuan to 100 yuan a day, Yu's club served more than 10,000 customers last year and registered profits of more than 1 million yuan.
"It's just the beginning as the spinoff industries, such as maintenance and parts sales, still have huge potential," said Yu, who developed his business from five bikes in 2006 to 1,500 ones now.
The hospitality industry also benefits as clubs can recommend hotels or even family inns.
"Because we have many more guests than before, we can offer lower prices," said Tenpa Gyatso, a Tibetan owner of one of Yu's 11 partner hotels near the Heima River, a scenic spot on the south bank of the lake.
Qilian, a county in northeast Qinghai, is also a beneficiary on the tour-driven business chain.
Once virtually unknown at the Qinghai-Gansu border, Qilian has become a major attraction, with its iconic mountain forest becoming a much-appreciated backdrop for TV coverage of the tour.
More than 740,000 tourists visited the county last year, spending 165 million yuan, up from 61 million yuan in 2010 when the tour first reached Qilian.
According to Li Fayuan, general dispatcher at Qilian's long-distance bus station, the hub transports almost 600 passengers on six lines every day, up 30 percent from 2010.
At a cost of just over 1 million yuan to stage seven of the tour, the local government realizes it is money well spent.
"The media exposure, which brought the beauty of remote areas to a broader audience, contributed greatly to promoting our attractions," said Long Yongsheng, county magistrate of Qilian.
Based on abundant sightseeing resources, the county is planning to build hiking, camping and cycling resorts, said Ma Jinquan, a tourism official.
Sales of local specialties, such as yak yogurt, highland barley wine and Kunlun jade, have soared.
Ma Shengtong, owner of Lingyun supermarket in Guide county, where the tour's second stage ends, said the store's annual turnover is up 10 percent year-on-year.
Tianjun, with a population of 18,000 on the northwest bank of Qinghai Lake, has seen six restaurants open since last year, said Tibetan restaurant owner Tashi Tsering.
But the surge in new business has brought a few problems as well.
"When a business like bike rental emerges, the government must provide guidelines and issue related service and price standards," said Lin Xianpeng, sports industry professor with Beijing Sport University.
Without proper regulations, the cycle of success could hit a rocky road.