Attacks a blow to regional tourism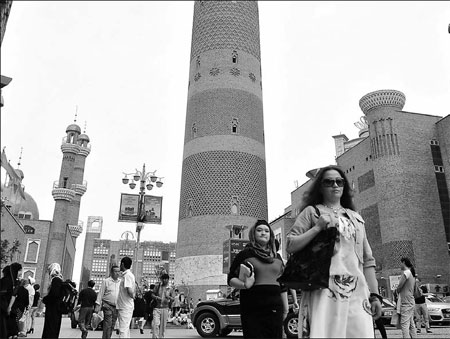 The Xinjiang International Grand Bazaar in Urumqi, capital of the Xinjiang Uygur autonomous region, is a major destination for Chinese and foreign tourists. [Photo/China Daily]

Tourism in the Xinjiang Uygur autonomous region has been hard hit after many people decided to cancel their trips due to safety concerns following recent terrorist attacks, said a leading tourism official in the region.
"Although the best season to visit Xinjiang has come, tourist numbers to attractions around the region have been affected by the recent terrorist attacks and have all dropped," said Guli Ablim, deputy director of the Xinjiang tourism bureau.
Thirty-five people died in a terrorist attack in Lukqun township, Turpan prefecture, on June 26. A few days later, a riot broke out in Hotan prefecture.
Guli Ablim hopes that letting people learn about the current situation in Xinjiang, which is peaceful and beautiful, could eliminate the negative impact brought by the incidents. Also, all tourist events held in the region, including the grape picking festival in Turpan, must pass risk assessments.
Zhang Xin, 29, was taking a picture of his wife in front of the grand bazaar, Urumqi's top tourist attraction, on Monday evening.
The newlyweds came to Xinjiang for their honeymoon on July 1. "My wife always wanted to see the monster in Kanas Lake in Altay. Well, we didn't see the monster but the lake was beautiful and we decided to stay there for two more days," said Zhang, who is from Beijing.
The couple had heard about the terrorist incidents and their parents wanted them to cancel the trip, but they chose to go.
"Security will always be stepped up after such incidents. I believe we are actually safer. Of course, we will be extra careful, such as not going out during the night," Zhang said while looking at the special police patrolling nearby.
Medniyat Alili, a manager of China CYTS Tours Xinjiang branch, said the decline in tourist numbers should not be solely blamed on terrorist attacks.
"The central government's policy on cutting meetings and tours has also affected tourism. After the attacks, the government has implemented new measures to protect people's lives and so far the result is positive. When we promote Xinjiang to potential tourists, we always tell them that the overall situation is stable and they will be safe," he said.