Starwood accelerates expansion in China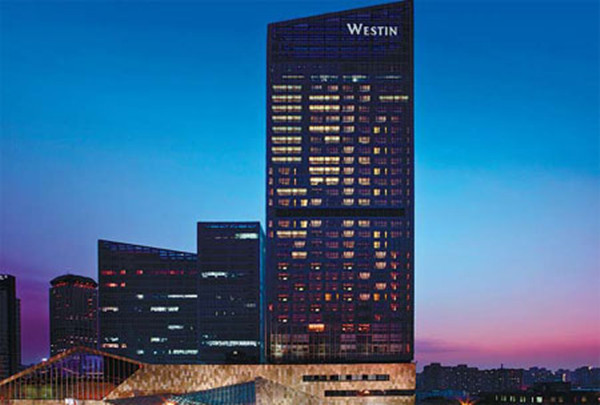 Westin Hotels & Resorts, under the Starwood Group umbrella, recently introduced "Westin Weekends" in 17 hotels in China to attract guests from the domestic market. Photos Provided to China Daily
Second-and third-tier cities are key to the hotel developer's strategy, Xu Lin reports.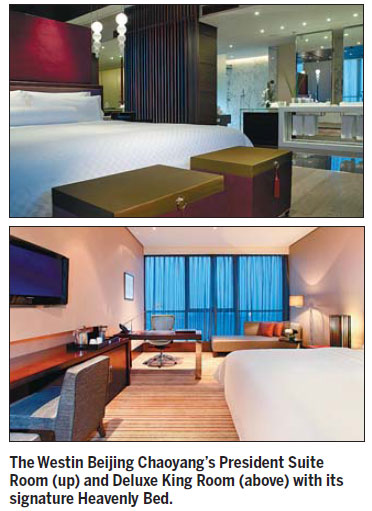 Starwood Hotels and Resorts Worldwide has announced plans to open a new hotel in China every 20 days for the next year. China is already the hotel conglomerate's largest market outside the United States, and also its fastest growing - with 120 hotels open and more than 100 in the pipeline.
Starwood president and CEO Frits van Paasschen, who was in Chengdu, Sichuan province, to attend the Fortune Global Forum, says about 70 percent of the new hotels will be in second- and third-tier cities.
"China is a once-in-a-lifetime opportunity for our business, and we focus on taking every advantage of our important first-mover position here. For example, to growing our hotel footprint as part of the country's massive infrastructure development,"he says.
Since Starwood entered the Chinese market in 1985, it has become the largest high-end hotel operator in the country. In 2012, it opened 25 hotels and signed 36 new hotel deals.
The company now plans to expand to second- and third- tier cities having established high market share in China's major cities. Starwood's Four Points by Sheraton and Aloft brands operate well in newly developed high-tech industrial parks, university towns and surrounding areas of high-speed railway stations.
Its upscale hotels such as Sheraton and Westin are popular in new central business districts in second-tier cities.
It also plans to double its luxury footprint in China, as the country's demand for luxury hotels is increasing in recent years. W Hotels, which just opened the W Guangzhou earlier this year, will open new flagships in Beijing and Shanghai and hotels in Chengdu, Changsha, Hunan province and Suzhou, Jiangsu province.
The ultra-luxury brand St. Regis will expand with new hotels in Changsha, Chengdu, Lijiang in Yunnan province, Zhuhai in Hainan province and Nanjing in Jiangsu province.
Van Paasschen says rising Chinese outbound tourism is impacting business in the world and in 2012, 95 percent of Starwood's hotels in about 100 countries received guests from China.
Chinese domestic travel also continues to rise. About half of the company's hotel guests are Chinese. Starwood has opened new ski resorts in China such as the Westin and Sheraton resorts On Changbai Mountain. Also, it will soon have more resorts in Hainan than it does in Hawaii.
Over the next five years, Starwood will double its number of employees in China, with 10,000 new jobs each year. The company is confident about attracting talent because of its long presence in China, mature career tracks and well-designed recruiting strategies.
The local market is a key strategy in its marketing plans. For example, all 17 Westin hotels in China have started to introduce weekend retreat promotions in June, where guests and local residents can stay for "relief and relaxation".
Under the themes of "stay well" and "move well", the healthy lifestyle initiative aims to upgrade Westin's brand image beyond its conventional corporate guest profile - and boost weekend occupancy rates.
"The promotion offers late breakfast, late checkout till 3 pm on Sunday and a series of refreshing items to maximize the weekend guest's leisure inside our hotel," says Hazel Ooi, senior brand manager for Westin, Sheraton and Le Meridien in Greater China.
"We hope our guests feel better and more refreshed when they leave us than when they arrive," says Nick Porter, general manger of The Westin Beijing Chaoyang.
"This is a way to get rid of the Monday blues, while not tiring yourself out traveling over the weekend," says Stephen Ford, area managing director, North China and general manager of The Westin Beijing Financial Street.