Flowing water, towering hills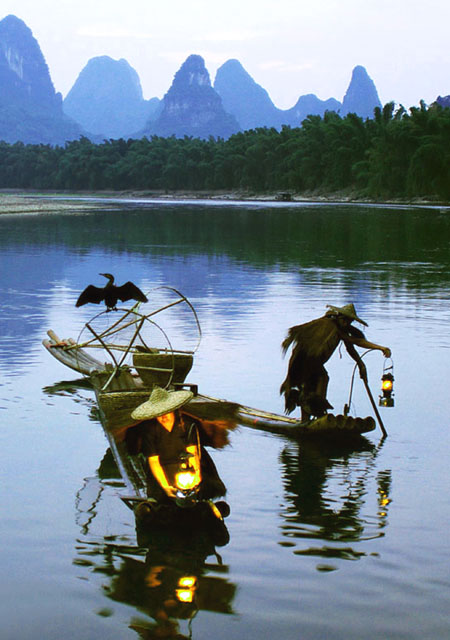 The picturesque Lijiang River comes alive as local fishermen set out for the morning's catch. Liu Xianglong / Asia News Photo
They say water nourishes man and that woman is made of water. It is only when you visit Guilin that you realize the truth of this. Pauline D. Loh pays a pilgrimage to the world-famous Guilin hills and the river that flows through them.
Have you noticed the beautiful scenery on the back of a Chinese 20-yuan note? Even in sepia tones, the hills are breathtakingly beautiful, rising almost upright from the banks of the Lijiang, the "flowing water" that cuts right through Guilin in Guangxi.
Now we have the geography mapped out, we can get down to real details like how proud the residents of Guilin are of this river.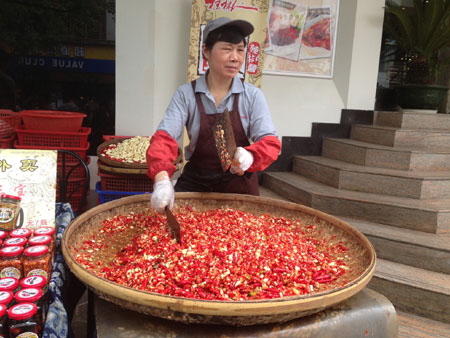 Chili bean paste is one of the hottest products in Guilin. Pauline D. Loh / China Daily
In fact, Guilin natives take pride in all they have - the wonderful moist climate which the women claim gives them their famous complexion, the snail noodle dish now widely exported to major cities all over the country, the famous chili bean paste, and of course, the unique Arhat fruit or luohan guo, the latest all-natural sweetener to fascinate the health-conscious community worldwide.
Guilin literally translates into "osmanthus woods" and the city is similarly famous for its incredibly aromatic osmanthus flowers, frequently used to infuse and scent the green tea which grows on the steep slopes of the karst hills.
In season, ancient osmanthus shrubs as tall as trees deodorize the air above the Lijiang River as it meanders through the Guilin city center.
We were fortunate to stay at the oldest international five-star hotel in town, the Guilin Sheraton, and we made it our base to explore the river and trawl the food streets just behind the hotel. There is also a convenient traditional Chinese massage center across the street where we sought much needed relief after a day clambering up and down steep slopes.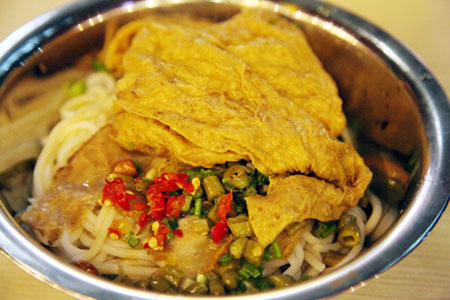 Guilin rice noodles. [Photo by Fan Zhen/China Daily]
It is probably also the only hotel where you can gaze upon the Lijiang out of your window and watch its changing mood as it turns clear when the weather is fine, or murky and angry as heavy rains whip up little waves on its surface.
The famous Elephant Trunk Hill is also mere minutes away.
In the early hours, you can see Guilin residents out in full force by the banks, waving lethal-looking swords and huge red fans or little ping-pong bats, intent on practicing their martial arts or dance sequences.
You can tell they are a healthy lot, unlike the sedentary lazybones from Beijing exercising vicariously from hotel windows.