Adventure of a lifetime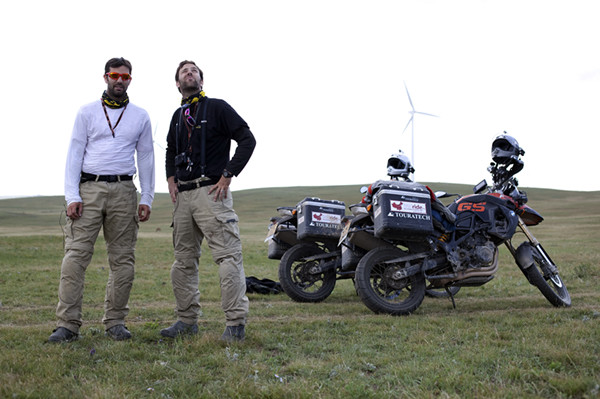 Ryan Pyle (right) and his brother Colin took 65 days and traveled 18,000 km on their motorcycle journey around China. Photos Provided to China Daily
When Canadian brothers Ryan and Colin Pyle each found themselves at a career crossroads, they decided to go traveling and embarked on an ambitious motorcycle ride around China. Mike Peters follows their path.
Growing up in Canada, Ryan Pyle probably never thought he was exotic looking.
Fast-forward to summer 2010. Ryan, who has lived in Shanghai for more than a decade, roars into a small community in the Xinjiang Uygur autonomous region on a huge BMW F800GS. His brother Colin is right behind him on an identical monster bike. The two peel off their helmets to reveal two about 1.8-meter white guys with three-week beards. And their license plates were from Shanghai?
Pandemonium!
The brothers came to this remote part of the desert as a "great escape". A year earlier, Ryan, a photojournalist and documentary filmmaker, had been making his annual trip to meet his magazine clients in New York. He found the US publishing industry in disarray, some of his longtime editors laid off and others with slashed budgets. His brother Colin, meanwhile, was a successful currency trader with his own company, but burned-out by long hours and what he felt was a soulless enterprise.
Ryan invited Colin to China to do some traveling, an opportunity for the brothers to reconnect after living on opposite sides of the globe since Colin was a teenager.
As they hunched over a laptop trying to figure out where to go, a grand scheme begun to take shape: a counter-clockwise circumnavigation of the entire Chinese mainland.
"Colin gave a bark of laughter as the route appeared on the screen," his older brother writes in their recent book, The Middle Kingdom Ride. "North from Shanghai to the border with North Korea, then west to the border of Pakistan, down to Tibet, to Hong Kong in the south and finally up the east coast back to Shanghai."
It was 20,000 kilometers, with more than a few impediments.
It was going to take 60 days if they were lucky. Could two crazy waiguoren on motorcycles - with a two-man video crew driving a van ahead of them - get through militarily sensitive areas?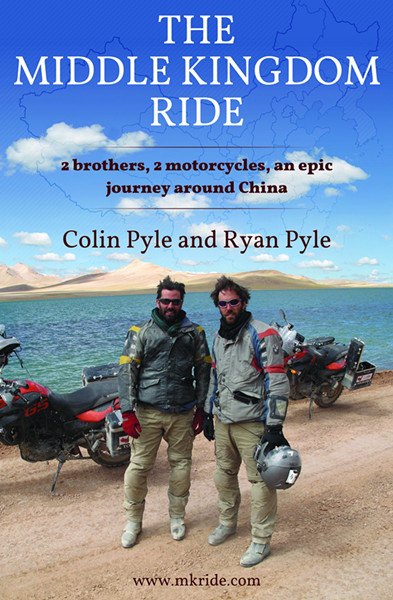 The brothers documented their trip in a book,The Middle Kingdom Ride.
And what on earth would their wives say?
Despite those challenges, the die was cast. The trip was all about making a TV documentary, and Ryan was optimistic he could get sponsors to cover much of the cost. But selling the concept wasn't easy. They ended up buying their own bikes and proceeding with limited sponsors, who provided rugged all-weather clothing and other gear.