The very heart of New York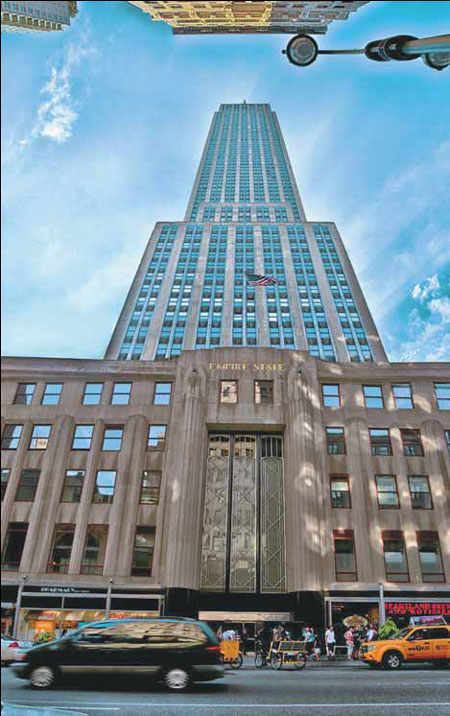 Some say you've never seen New York unless you've been to this landmark. Raphael E. Paez / for China Daily
The Empire State Building is an icon and a must-see for all first-time visitors to New York City, as Xu Lin reports.
The Empire State Building, in New York City, is arguably the most romantic place in the city and it must be absolutely breathtaking to meet one's lover way up on top of it, as Meg Ryan did in the classic movie Sleepless in Seattle, especially on Valentine's Day. And, Jean-Yves Ghazi, director of the building's observatory, says he couldn't agree more. "People propose (marriage) all the time on the deck. When they get a view of the city late at night, the males just naturally pop the question," explains Ghazi, who was in Beijing recently for the China Outbound Travel and Tourism Market.
And, although observatory staff members do not handle wedding ceremonies, Ghazi says he witnessed a small wedding ceremony once, where the couple exchanged vows and kissed each other, with several friends and a photographer on hand.
The Empire State Building has been one of the city's must-see attractions for a long time and has appeared in countless movies. It provides an unparalleled 360-degree view of the city and its environs, both in daylight and at night, with two observation decks on the 86th and 102nd floor.
As a result, it receives more than 4 million visitors from all over the world every year.
Ghazi has been coming to China every year, for five years, to cultivate relations with the Chinese and possible visitors to New York City and has by now partnered with more than 59 Chinese companies in big cities, such as Beijing, Shanghai and Guangzhou.
In fact, he says that his building receives more than 200,000 Chinese visitors annually, and that figure is growing by 20 to 30 percent every year.
He estimates that, as the visa process becomes easier, that growth will be even bigger - perhaps 50 or 60 percent - because many Chinese dream of visiting New York.