Tourist finds new species of orchid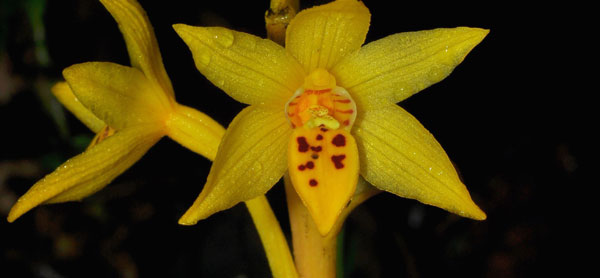 The leafless orchid has been confirmed as a new species. Zhai Junwen / for China Daily
Scientists have confirmed that an orchid found by a tourist in South China is a new species.
Uniquely, the orchid is entirely yellow, has no leaves for photosynthesis and carries the biggest seeds of all known orchids.
Named by scientists as Danxiaorchis sinchiana, it was discovered in the remote mountains of Shaoguan, Guangdong province, by tourist Zhu Jiaqiang.
In May 2010, Zhu and some friends were hiking in Danxia when Zhu was astonished to see six beautiful orchids growing in a grassless area.
Zhu took photos of the orchids and put them on the Internet, attracting the attention of botanists.
Zhai Junwen, from the Chinese Academy of Sciences' South China Botanical Garden, said, "It is different from any orchid species recorded. When I saw Zhu's photo, I saw it was very special, so I contacted him immediately."
Scientists from the garden, the National Orchid Conservation Center and the Shenzhen Orchid Conservation and Research Center went to the mountains with Zhu.
After careful research efforts, they concluded it is a new species. Their research was published in Plos One, a US science journal, on April 4, and this week the scientists held a news conference to announce the discovery.
Liu Zhongjian, a senior expert with the Asia branch of the International Union for Conservation of Nature's orchid group, said: "The discovery of Danxiaorchis sinchiana has enriched the diversity and gene bank of the orchid species, and the special structure of the seed provides a new research interest for orchid evolution."
Liu referred to the Danxia landform, found only in southeast and southwest China and which consists of red-colored sandstones and conglomerates largely from the Cretaceous.
"The discovery reconfirmed the specificity of the Danxia landform, enriched the diversity and improved the visibility of biodiversity research on it," Liu said.
The orchid is not the first new species found in the region, with some plant species previously reported in the area.
However, human activities have limited the range of orchid species.
Liu suggested authorities build a protection zone for the new species and start gene research for a possible reproduction study.
So far, scientists have found 21 individual Danxiaorchis sinchiana, with the total number estimated at less than 100.