Travelers behaving badly are as common as the call of nature
Six Danes on a tour bus in Shanghai had a few drinks too many. They started singing and getting a bit frisky.
Nothing wrong with that.
However, it wasn't long before they needed to relieve themselves, and since the coach was on an elevated highway and the driver wasn't about to stop, a "situation" developed.
It was at this point that the Danes reportedly took control of the wheel and forced the bus to a halt. They piled out, unzipped and urinated over a divider, in full view of other, no doubt, bemused passersby.
A silly story, really, that can be boiled down in a few words - six pissed Danes take the piss, piss and piss off a nation - but the reaction was interesting.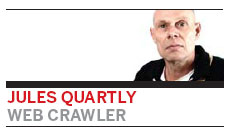 The Sina Weibo micro-blogging service lit up with resentment: "Is this how civilized foreigners are civilized?" "Are foreigners' characters really that great?"
Now this righteous indignation was, of course, an opportunity to take the moral high ground and respond in kind to the charge that Chinese are themselves uncivilized, despite 5,000 years of practice.
For instance, in the capital's CBD of "Civilized Chaoyang" it is fairly common to see kids bent over a curb answering the call of nature, or grown men doing the same after a night out. Spitting and smoking are also par for the course. Not an issue in some countries, perhaps, but no-no's in the West.
In Hong Kong, mainlanders are the source of mirth and anger for their supposedly uncouth behavior, such as not lining up in Disneyland or collecting their kids' urine in a bottle in restaurants, rather than using the public convenience.
In Taiwan, mainland tour guides reportedly instruct their charges on how they should behave: For instance, carving your name and that of your significant other "4 ever" in ancient botanical specimens is just wrong, no matter how deep your love.
And just in case anyone is under the illusion that their countrymen should be spared criticism, there's the "Ugly American" or the annual rite of passage for US college students to travel south to Mexico, get drunk and have copious sex in public places; Brits behaving badly in the Balearic Isles of Spain and getting so wasted they are a danger to themselves; Japanese sex tourists; Russian gangsters in Cambodia; African immigrants on tourist visas; Estonians coupling in Thai temples
There is a line of thinking that believes travel broadens the mind. While this may indeed be true for the traveler, it may not be so true for the hosts, who have to put up with boorish and occasionally illegal behavior. In such cases, while locals may welcome the financial benefits of tourism, they may come to count the cost.
Since many people understandably travel in order to freely spend their money and let their hair down, rather than appreciate the host country's cultural delights, it's hardly surprising that they don't represent all that is best about their own country. And while I do believe visitors should show respect to their hosts and vice versa, does everyone do this in their own land?
An oft repeated saw is: "When in Rome, do as the Romans do." But if this was a panacea for world travelers and peace among men, the Romans would all be saints, and experience just doesn't bear this out.
Rather, I think, it is probably better to look at our own behavior and make allowances (up to a point).
On such a positive note I have to say that the Beijing subway has lately become a stage of sorts for gallantry. It used to be that I struggled with two pre-schoolers on a swaying train at rush hour and the kids would be in tears by the end, traumatized by the experience or the result of being stepped upon. These days, they are nearly always offered seats, often enough by pensioners who need them more. Clearly, the message to help those less fortunate has been heeded.
As for the Danes in question, they were only answering the call of nature, and we all do that, just not so publicly.