To work with nature, rather than exploit it
Q & A | Zhu Yufan
Zhu Yufan is a 42-year-old professor at the School of Architecture, Tsinghua University.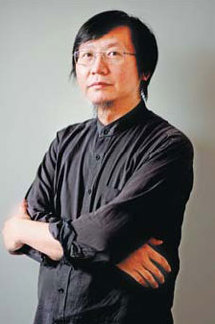 Designer Zhu Yufan is the brains behind the successful quarry garden project. Provided to China Daily
What was your first impression of the site?
It was an impressive landscape. Very beautiful. The hill is barren, but the rock has a beautiful texture, which gave it the look of an ink painting. So, all I needed to do was add a little color to it, like the streams that fall from the mountaintop.
What were your thoughts about the quarry when you first visited in 2007?
Marvelous. And I thought, I'm going to ensure visitors get close to the lake.
Why?
This relates to a Chinese way of sightseeing. We don't want to just stand by and watch. We want to be part of the scene. That is why I built the iron and steel bridge, as well as the floating bridge.
What difficulties did you encounter during construction?
There were plenty! Far more than I anticipated. It is a 60-meter deep quarry surrounded by mountains, which means it was not a typical garden design, and it was on a huge scale. There were so many new things for me to consider, such as safety. For example, the floating bridge was not part of the plan at first. But if we had built a bridge along the mountainside, there was a potential risk of rocks falling on people. I learned a lot and I am very happy about that.
How would you judge the project now that it's completed?
It is one of my favorite projects. It also introduced me to the challenges of quarry design and reconstruction. I am still learning, but I found it fascinating.
It was only after I started working on the quarry park in Chenshan that I realized there are many other similar sites in China. I notice them on my travels and always wonder what can be done for them.
I recently visited a 400-meter deep quarry in Huangshi, Hubei province. I hardly knew what to think when I first saw it. I do hope that in the future people will think more before they exploit natural resources. It is so much better if you think ahead before doing so.
Related coverage: