Regional hub of the Indian Ocean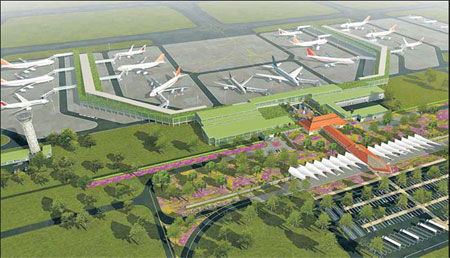 Mattala International Airport, Photos Provided to China Daily
Strategically positioned, Sri Lanka on right track to becoming major player in South Asia
Situated on major trading routes, Sri Lanka is undergoing a huge investment drive in infrastructure and transport links to help transform the country from a developing nation to a middle-income economy by 2016.
Having experienced growth rates averaging 8 percent - one of the highest rates in Asia - since a 30-year long civil war ended in 2009, the country is on course to becoming a hub for aviation, maritime activities, commerce, energy and knowledge, based on President Mahinda Rajapaksa's roadmap for the future.
With lucrative natural resources, a strong agricultural sector and a large number of successful industries, it is easy to see why investors are eyeing the country of 22 million people with interest.
Basil Rajapaksa, minister of economic development, explained how peace has brought immense change and optimism.
"Sri Lanka has always had nice beaches, wildlife, world heritage sites, landscapes and waterfalls but investors and tourists did not, understandably, want to risk coming here. Now we have peace, and we can expect to see a change in this.
"Sri Lanka is the only country in the region that supplies power 24/7. We have ensured that electricity and water is available to all. Moreover you can see that despite the rapid growth rate, Colombo, our capital, has suppressed total urbanization. We have tackled the neglected areas of our economy, so that Sri Lanka as a whole may benefit from it."
That change includes the introduction of a livelihood development program for the country's 36,000 villages that are home to some 80 percent of the population and new roads, power connections, schools and health centers.
Support is also being given to the large potential industries from which the export of raw materials is taking business and profit away.
"Sri Lanka needs to begin taking credit for its products," Rajapaksa said. "Some 95 percent of the world's cinnamon comes from Sri Lanka, but we export the spice to Mexico where it is packaged and shipped elsewhere. We have taken measures to begin branding these products and raise awareness. We're aiming to become self-sufficient in food."
Improving connections
As the third largest contributor to the nation's GDP, tourism is a natural choice for investment. Officials have done much to tackle room capacity and attract big-name hotels to add to the local boutique and home-stay choices. Piyankara Jayaratne, minister of civil aviation, reported that a growing number of international airlines are coming back to Colombo, and the country is being heavily promoted by international travel organizations as a viable alternative to India, Thailand and other well-trodden paths in Asia.
Plans are afoot to upgrade five of the country's 13 domestic airports, but the big news is that a state-of -the-art international airport located in the south of the country will be operational shortly. The Hambantota International Airport, HIA for short, will go a long way to making the president's dream of Sri Lanka as an aviation hub a reality.
Management at Airport and Aviation Services Ltd, the entity responsible for all development and management issues at the airports, is delighted with the HIA project and it is easy to see why. HIA will handle 1 million passengers initially, increasing to 5 million people and up to 150,000 tons of cargo annually on completion of the third and final phase.
Playing a vital role in the development of the surrounding region, it will promote air-sea transhipment hub operations in conjunction with the Hambantota Port. The airport will serve as a catalyst to develop the eastern and southern coastline and provide an alternative to the congested Bandaranaike International Airport in Colombo.
As well as serving as a gateway for foreign investment flow, the airport will provide an economic driver for the development of Sri Lanka's tourism, commerce and trade sectors.
"Our plan is to have a total passenger capacity of 18 million by 2017, 12 million in Colombo and 6 million in Hambantota," said Prasanna J. Wickramasuriya, chairman of Airport and Aviation Services Ltd.
"I am happy that the aviation industry has been given a fair advantage to develop, since Sri Lanka is strategically located for both air and sea travel. It's close to the equator and between two continents.
"The government's plan is to develop the country into a sea-air transhipment hub. Hambantota Port is approximately 16 miles from the airport, so the entire area will soon be declared a free zone, and that will benefit the whole country. There will be heavy industries around the port, and light to medium industries around the airport. Land is available around these areas for industries to set up their businesses or investments."
Priyath B. Wickrama of the Sri Lanka Ports Authority also praised the government's blueprint.
"Our main aim is to give local entrepreneurs better connectivity to the rest of the globe," he said. "We want to create one of the fastest and most affordable shipping services in the region. We are surrounded by the South Asian market and by the year 2020, the region is projected to have the largest middle-income population in the world. The potential of Sri Lanka becoming a hub and servicing the region with maritime services is huge.
"In the future, Colombo will function mainly as a transhipment hub, and the new Hambantota Port in the south will act as our main logistics center. Galle will be mainly focused on tourism, and Trincomalee will be for industry and tourism. We are developing all these ports in parallel. Sri Lanka's ports sector will play a huge role in the economy. It currently contributes 10 percent to the GDP, but our goal is for ports to contribute 40 percent in the future."
The port's chairman is understandably enthusiastic about the opportunities the new port will bring. "The project has gone really well. We must commend the China Harbour Engineering Company for completing it without any major issues and eight months ahead of schedule. We now have 30 square kilometers in Hambantota for development as a free zone," he said.
Infrastructure spending has also bought growth to the Sri Lanka Insurance Corp, which, as the national insurer, is providing cover for most of the projects, and their spin-off industries as they grow.
"The new port will need the services of ship repairers, ship builders and container yards, for example," said Mohan De Alwis, managing director and CEO, noting the company has seen tremendous growth of around 50 percent since it was acquired by the government in 2009.
"Our asset base is continually growing and is currently around $1 billion, which is a lot for a Sri Lankan company," Alwis said.
With life insurance penetration at only 12 percent, there is huge potential to grow this sector and increase the number of subscribers.
"The country is working towards GDP per capita income of $4,000 by 2016," Alwis said. "With this projected income growth, we are very optimistic about life insurance.
"All sectors of the economy are moving forward. There are also opportunities for Chinese investors to come into some of the projects we are starting up in the tourism and energy sectors."