Hainan Monthly Special: For tourists, island is breath of fresh air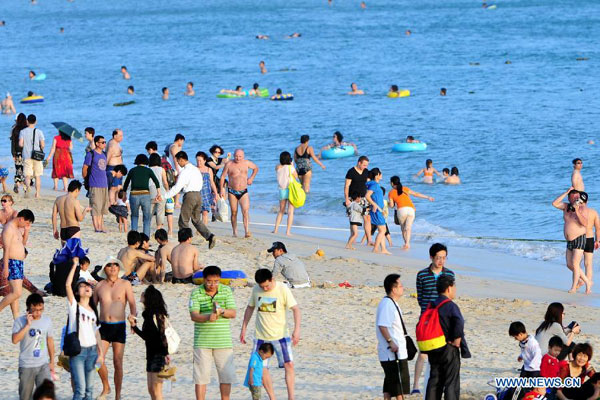 Tourists relax at a beach in Sanya, a famous tourism city in south China's Hainan province, Dec 25, 2012. Many tourists chose to visit Sanya for its warm weather. [Photo/Xinhua]
Providing much-needed relief from the smog and dust that plagues many Chinese cites, Hainan's lasting clear days make it one of the hottest domestic tourism destinations in the winter.
Statistics from the Hainan Tourism Commission showed that the province welcomed more than 1.9 million tourists during the Spring Festival holiday from Feb 9 to 15, an annual growth of nearly 41 percent.
The commission predicts that over the course of this year, Hainan will receive 36.52 million visitors, an annual increase of 10 percent.
Although Hainan's GDP has grown by more than 70 percent over the past five years, its environment remains relatively pristine. For example, its forest coverage is increasing at an average annual rate of nearly 1 percent.
In a given year, Hainan has good air quality on more than 96 percent of days, according to official statistics..
The excellent environment has brought a windfall to the island province.
The State Council has just approved Hainan's development of a Sino-Japanese healthcare tourism project in early March.
Located in Boao, the area will be a new tourism destination that combines healthcare, recuperation and leisure tourism.
With double-digit annual growth in recent years, healthcare tourism is an emerging and fast-growing sector, especially in Asia. Its strict environmental requirements make it a perfect fit for Hainan.