Creamy visions of spring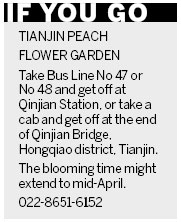 Swaying in sync with a caressing breeze, flickering among the sprouting greenery, and carpeting the ground with dainty petals, sweet pink peach blossoms add a grace note to the spring in Tianjin.
Tianjin Peach Flower Garden, situated on the northwest side of the Middle Ring Road, stretches along the North Canal, which was a historically critical passage leading to the capital. It is no exaggeration to say the area has witnessed a booming trade of shipped goods for 200 years.
During the reign of Kangxi of Qing Dynasty (1644-1911), the prominent emperor who was impressed by the spectacular peach blossoms penned a poem to register his appreciation.
A stone tablet erected in the garden is a reminder of Qing emperor Qianlong's brief visit on his way south for an excursion on the Yangtze River. The legendary emperor stopped by on long-haul trips eight times.
Tianjin Peach Flower Garden is on the former site of Peiyang University (now Tianjin University); scholars and students have been roaming, sight-viewing, meditating and socializing there for generations.
As the blooming peak spans only about 10 days, swarms of visitors descend on the garden to catch the short-lived glory that ushers in the spring.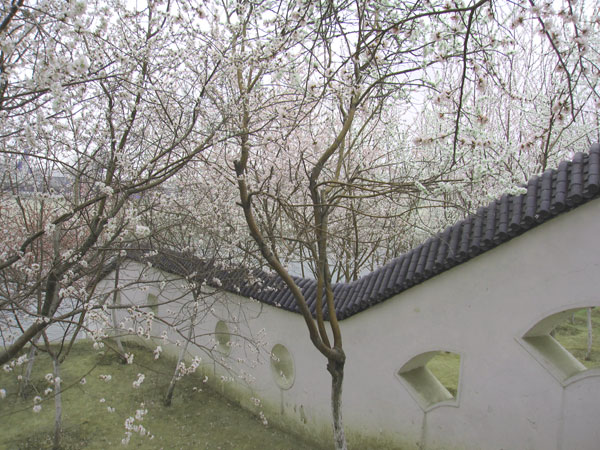 The yelling of touts and roaring of crowds at the entrance can drive one to the vast array of goods - candyfloss, rolling soybean cake, sesame candy, toy windmills, you name it.
Forking out several yuan allows you not only to savor such Tianjin specialties, but to take them as props for picture-taking.
Blossoms on one tree are nuanced in color against blossoms on neighboring trees, alternating hues of white, flesh tone and blusher-like pink. From a distance, the trees seem dressed in fluffy pink outfits, while a closer look reveals proud blossoms and shy buds that densely stud branches in neat rows.
sundayed@chinadaily.com.cn