Bear moment in Bern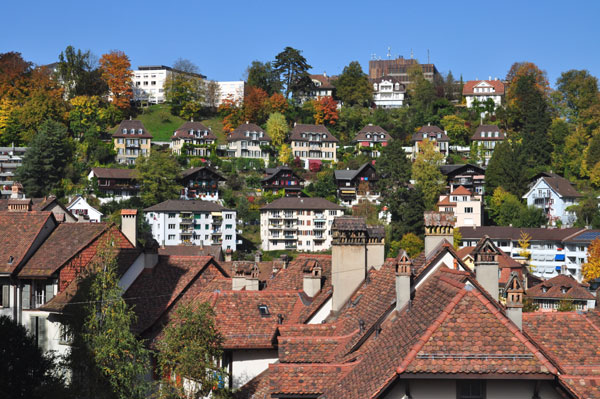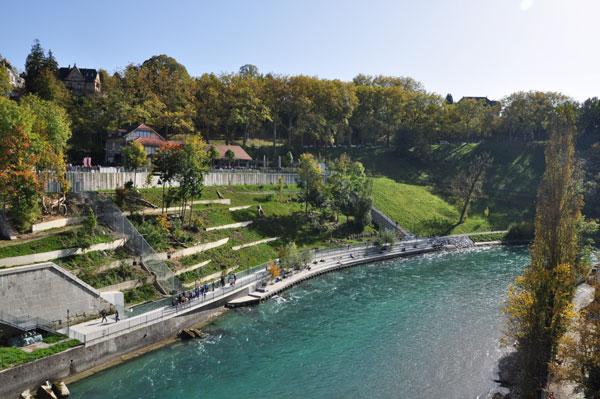 Top: The best panoramic view anyone can have from the Munsterplattform. Above: Aare River envelops the city of Bern and remains one of the biggest attractions that is always beautiful at any given season. Photos by Jofelle Tesorio / for China Daily
If Chengdu has pandas, Bern has bears. Jofelle Tesorio finds out how the Swiss capital and its citizens struggle to keep the bears in the pit while treating them more as important symbols and not just tourist attractions.
'If you think Geneva is the capital of Switzerland, you're grossly wrong!" Hans, an old family friend exclaims, as he brings us around the cobbled city center of Bern. Born, raised and spent all his life in Bern, he exudes an air of pride talking about the city's history. He was speaking in perfect English, the favorite second language edging French.
Since we arrived two days before, I have been hearing 'merci' all the time and got confused whether German or French is the spoken language.
Most of the Bernese speak Swiss-German but since the nearest French-speaking canton is just 12 km away, they're used to saying 'merci', instead of 'danke'!
But I would imagine German is the most logical language for the Bernese since we only traveled for two hours from Freiburg, West Germany to reach the city.
I was guilty as charged for not doing my homework.
But like most travelers from outside Europe, Bern is perhaps more known for its bears and Albert Einstein, but not for the seat of government.
Founded in 1191 by Duke Berthold V. von Zahringen, Bern became the capital of Switzerland in 1848. Given its rich historical past, Bern has retained a medieval atmosphere, which is very special for a capital city.
Most capitals these days are so in a rush to catch up on development, building this and that. Not Bern. This city seems suspended in time and the Bernese are known as laid-back people.
Buildings and monuments from the 14th to 16th century are well preserved. The city square has mostly original cobbled walks from centuries ago, painted fountains, towers and medieval craft guilds. Many of the original structures built on local sandstones are still intact.
With this superb preservation work, Bern has another claim to fame - a UNESCO Heritage Site. Not many capital cities in the world have a stamp of a heritage site. Perhaps its smallness and old charm make the difference. I would never have guessed that it is the Swiss capital.
Walking around the city and stopping at the Mnsterplattform, a terrace-like park with chestnut and lime trees all and with a panoramic view of Bern - the castle from afar, the Aare River below, the cathedral, and the bridge that serves as the entrance to the city center - I can not help but gasp at the beauty of this city and almost forget to ask our host about the bears.
After what seems an eternity of talking about Swiss life, Hans decides we should see the bear park along the river.
A throng of tourists is looking down from the 100-year-old Nydegg Bridge. "There's the bear!" shouts one tourist. One slightly plump bear appears from its hiding place.
A few minutes later, another one comes tagging along, then the third, which looks smaller than the earlier two. They run around playfully, not minding the snaps of cameras and shouting from delighted viewers above.
Opened in late 2009, the new bear park covers 6,000 square meters and has caves and a pool. It is supposed to create a more natural habitat for the animals.
This is a big improvement from the old bear pit just a few meters away, which many people criticize as inhumane or worse, a disgrace to animal-loving Switzerland. The investment is worth it since the bears are attracting more than a million tourists a year.