Heilongjiang capital focuses tourism strategy on Russia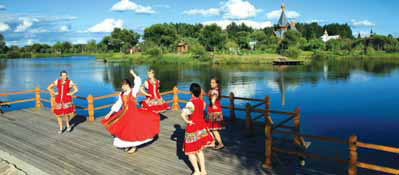 Russian dancers perform at Volga Manor in Harbin.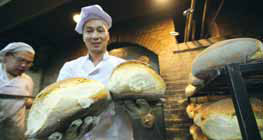 A local cook presents dalieba, a must-eat Russian food in Harbin. Zhao Tianhua / for China Daily
Russian-style architecture, folk dances as well as a taste of local mouthwatering delicacies make Harbin a top tourism destination for Russian visitors.
Noted for tourist attractions like Volga Manor and Vasili Street as well as dalieba, a type of Russian-style sourdough bread, the city will make Russian tourists feel at home.
The number of Russian visitors coming to the city is on the rise due to growing trade between Russia and China. In response, Harbin is developing more tourist attractions that cater to its northern neighbor, an official from the local tourism office said.
It will develop a hot springs resort, a traditional Chinese medicine healthcare center, an amusement park as well as some wholesale markets for tourists, he said.
Tourism authorities will promote the city in Russia's Far East and eastern Siberia.
"The city is like a mixed treasure trove or a kaleidoscope of Eastern and Western cultures," the tourism official said.
"It is noted for exotic flavors, like quality Western-style food, beer and Volga Manor, and it is also known for the Jinyuan, Manchu and Guangdong cultures, key treasures in China's history."
It has a full array of well-preserved forests and wetlands as well as ice and snow scenery.
The newly developed Sun Island Scenic Area, Yabuli Resort, Harbin Amusement Park and the Volga Manor have proven to be the best fit for the tastes of Russian visitors.
A series of art performances have been staged in the manor, which have attracted increasing numbers of Russian visitors.
Places to go
Volga Manor is located in the southeastern Harbin's Xiangfang district and covers 600,000 square meters.
It copied some 30 Russian-style buildings, including the St Nicola Church.
Roaming the manor, one feels as if traveling across time and space.
Vasili Street is located in the city's Central Street and has been named the "Sino-Russian Friendship Street".
The street is the part of a series of Russian cultural projects. Covering 3,600 sq m, the street has a full array of Russian-style restaurants, bars, cafes, oil painting galleries and two Russian "People's Artists" award winners are performing on the street every day.
Contact the writers at tianxuefei@chinadaily.com.cn, zhouhuiying@chinadaily.com.cn and yangcheng@chinadaily.com.cn