Airport to boost Beijing's south area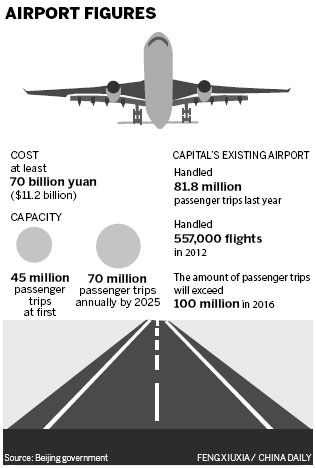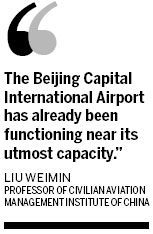 New facility to enhance tourism, logistics and trade industries
Beijing's new airport will greatly boost the development of the city's high-end manufacturing and strategic industries, as well as urban services in the southern part of the capital, municipal authorities said.
Air transportation and logistics, tourism, exhibition and conference sectors, and imports and exports, will be boosted when the airport opens, according to the Beijing Commission of Development and Reform, the top economic planning agency in the city.
The city government announced in December that it had approved the new airport south of the capital.
According to Civil Aviation Administration of China News, the airport is scheduled to open in 2018.
The construction will cost at least 70 billion yuan ($11.2 billion).
The airport will have six runways for civil and one for military use, and it will be able to handle 70 million passenger trips a year by 2025, the newspaper reported.
The city will set up a rail line connecting the airport to the downtown area, according to the National Development and Reform Commission. It will take only 30 minutes by subway for passengers to reach the airport from the Beijing South Railway Station.
Kang Kaiyi, a Tianjin businessman, said the new airport will be convenient for him.
"I sometimes fly from Beijing, and it usually takes hours to get to the airport in the north of the city from my home in Tianjin.
"Now that an airport will open in the southern part of Beijing with a rail line linking it to the Beijing South Railway Station, it will take about one hour to get to the airport from Tianjin, saving me a lot of time," he said.
Experts said the new airport will significantly ease pressure on the current one.
"The Beijing Capital International Airport has already been functioning near its utmost capacity," said Liu Weimin, a professor of Civilian Aviation Management Institute of China.
The capital's existing airport has been ranked as the second-busiest in the world for three consecutive years - Atlanta's Hartsfield-Jackson International Airport in the United States is the busiest.
Beijing Capital International Airport handled 81.8 million passenger trips last year, a 4.2 percent increase from the previous year, while Shanghai's two airports handled more than 78 million passenger trips that year.
In addition to diverting passenger flow, the new airport is expected to promote the development of industry and regional economic growth in Langfang and Baoding in Hebei province, according to the Beijing government.
Located near the border of the capital's southern suburban Daxing district and Hebei, the new airport is expected to further connect the capital with its neighboring cities, it said.
zhengxin@chinadaily.com.cn