Ice, snow culture sets province apart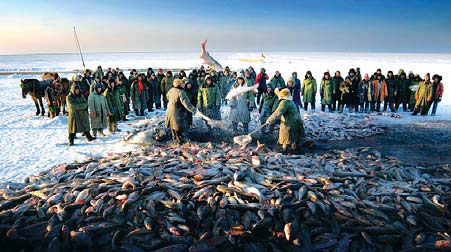 Ice fishing, a traditional event, has become a popular attraction among travelers. Provided to China Daily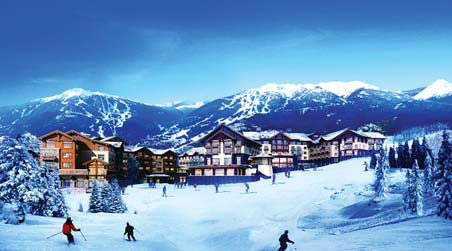 Through years of development, Jilin province has improved infrastructure and services in ski resorts. Provided to China Daily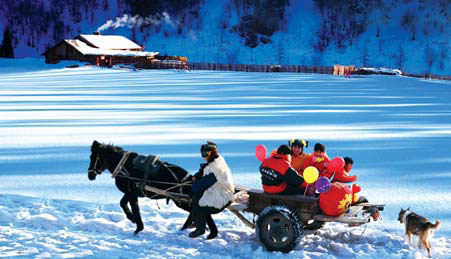 Villagers are on the way to shop for the Chinese New Year. Celebrating the festival in the Northeast Chinese style is promoted as a tourism product. Provided to China Daily
In Jilin, locals celebrate the arrival of winter, which brings with it the snowy majesty for which the province is known.
After the first leaf falls in early winter, snow soon follows. The icy northerly winds send a signal that a seasonal cold front from Siberia is coming. Swirled by the biting winds, snow descends upon the barren grasslands, sandy plains and black soil, drawing a hazy veil over the region.
Common in Heilongjiang, Jilin and Liaoning in Northeast China, snow varies in the three provinces.
In Heilongjiang, closer to Baikal Lake and Siberia to the north, the snow is harder, making it more suitable for carrying sleds and reindeer.
In Liaoning, the southernmost of the three provinces, the snow is softer and smoother.
Because Jilin is located between the other two, its snow can be both soft and hard and takes on different properties depending on where it is found.
Locals have developed their unique winter customs that draw on their love of snow and ice.
Despite the cold, snow exhilarates people. For them, winter is a time to enjoy the outdoors.
When winter approaches, fishermen living near rivers, lakes and streams make ready their ice fishing tools, such as chisels, sleighs and nets, in preparation for the fishing season.
Children begin to build snowmen and enjoy snowball fights, and workers start to make ice lamps at tourist destinations.
Around Jilin's famous Chagan Lake, villagers can partake in a number of winter activities, like ice fishing and ice lanterns. Eating pickled Chinese cabbage, building igloos and celebrating the Chinese New Year holiday in the northeastern style are also essential for any traveler.
The local attitude toward snow reflects the history and experience of the aboriginal people of Northeast China, who have long struggled to survive in a harsh environment. Because of the snow, winter days in the region have great significance.
Snow is like a relative that calls on locals from afar once a year. They look forward to its arrival. With little or no snow, the region would lose its geographic features and could not be grouped in with the other provinces in Northeast China.
Jilin people need to cherish their ice and snow cultural resources and map out a route for tourists to travel along from west to east.
The route is designed to take visitors from the western Harqin grassland, which covers Inner Mongolia and Jilin, to the Xianghai National Nature Reserve and Chagan Lake and then eastward until they reach the Changbai Mountains.
The author is a vice-president of the Jilin Provincial Federation of Literature and Arts and an expert in local customs.