Birds of a feather flock to Rudong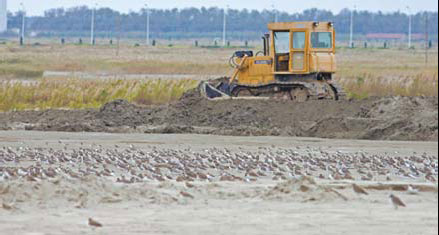 A bulldozer ploughs through wader habitat in Rudong, Jiangsu province. Dong Wenxiao / For China Daily
Although few spoon-billed sandpipers winter in China, possibly more than half of the critically endangered bird's world population rest and refuel at a single site, Xiao Yangkou, Rudong, Jiangsu province.
A harbor north of the Yangtze River estuary and the southernmost part of the Yellow Sea, the site is known for its rich mudflats stretching for some 250 km. The mudflats have become a magnet for birdwatchers and conservationists who have made impressive sightings of the spoon-billed sandpiper.
The group of local birdwatchers that discovered the Rudong site comprises more than 10 birdwatchers from Shanghai, Jiangsu and Zhejiang provinces, and has been monitoring the spoon-billed sandpiper in spring and autumn since 2010.
Li Jing, a key member of the team that calls itself the Rudong Spoon-Billed Sandpiper Survey Group, says little was known about the migration pattern of the species until recently.
Saemangeum estuary in South Korea was known to be an important stopover site, but after a huge sea wall was built in 2006, the large expanse of tidal flats where spoon-billed sandpipers and hundreds of thousands of other migratory waders used to rest and feed was destroyed.
In the late 1990s, up to 200 spoon-billed sandpipers were counted there and sightings in double figures were recorded until the seawall was completed.
Sightings of the species in Japan have also declined and double figure counts have not been recorded there since 2000.
Until 2008, few attempts were made to locate the rare bird at other potential stopover areas, so it was not clear whether they were molting or where they were refueling on their 8,000 to 10,000 km journey from their breeding grounds in Russia to their core wintering areas in Bangladesh and Myanmar.
Then, a birdwatcher from Zhejiang province produced the first photographic record of the bird on Rudong mudflats in 2008.
"Double figures were counted in 2009 and in 2010 for the first time we counted more than 20 individuals," says Li, who lives in Shanghai.
Since 2010, they have started receiving technical and financial support from a few environmental NGOs and monitoring the bird regularly.
"That means counting birds in Rudong for one-and-a-half months in spring and for two to three months in autumn," she says.
Their efforts produced some sensational results.
In October, 2011, Dong Wenxiao, a member of the group and a professional bird watching guide from Fujian province, counted 103 spoon-billed sandpipers on the Rudong mudflats in three days.
"That was probably a world record that year," Dong says. "Except Rudong, few SBS habitats have counts of more than 20 individuals. This showcases how important Rudong is."
In October 2012, the team members and some foreign ornithologists recorded 67 spoon-billed sandpipers on a single day and 106 in four days. "This time we had more people and covered larger areas," Li Jing explains.
Despite their unique bill shape, spoon-billed sandpipers are difficult to spot among large flocks of roosting waders, Dong says.
"Finding a roosting SBS in a flock of more than 1,000 similar-sized sandpipers is a real challenge for even experienced birdwatchers," he says. "It's time-consuming and can be tedious and painful, especially when standing on bare mudflats under the scorching sun."
In spite of the importance for migratory birds, wader habitats at Rudong haven't been put under State protection and face three critical threats, Li Jing says.
The reclamation plans at Xiao Yangkou means a massive sea-fill project will destroy some of the prime spoon-billed sandpiper areas.
The more immediate threat is the spread of spartina, a cord-grass, on mudflats. An alien species to China, they form large, often dense colonies, particularly on coastal salt marshes, and grow quickly - rapidly diminishing the feeding areas of migratory birds.
Additionally, there is polluted water draining onto the mudflats from a biochemical factory bordering the waders' habitat.
"Often you feel you are fighting a losing battle," says Dong, who has spent nearly six months counting sandpipers at Rudong every year since 2010.
"But as long as the birds still pass by, you feel an obligation to go, watch and count."