There is always snow, but what can you expect if you want to ski any time of the year? Writers who have traveled the world on skis let you know what you can expect during ski season around the world, month by month.
JANUARY
SILVER STAR, Canada
Chances are, you've never heard of Silver Star, a resort with an unpretentious mom and pop feel that is outshone by Whistler Blackcomb far to the west. But this resort in the sunny Okanagan Valley, about 5.5 hours east of Vancouver, offers the perks of a larger operation.
The place has just six main lifts (not including a connector T-bar and magic carpets) on a measly 1,914-meter-high summit, but those lifts deliver you to 1,240 hectares of skiing on 115 named runs with a decent 760-vertical-meter drop.
You can also cross-country ski on some 100 gorgeous km of groomed trails - some of which are reachable from the ski lifts, a rare treat.
In the village below, you'll find a lovely but sleepy base area of brightly painted frontier-style buildings that house a modest spa, an enticing bakery, several restaurants and - not much else. Go elsewhere to party. (skisilverstar.com)
FEBRUARY
COLORADO, UNITED STATES
When the United States Army veterans Pete Seibert and Earl Eaton hiked up an unnamed Colorado mountain in 1957 in search of good ski terrain, they discovered the vast potential of what would become Vail, now one of the country's biggest and best-known resorts.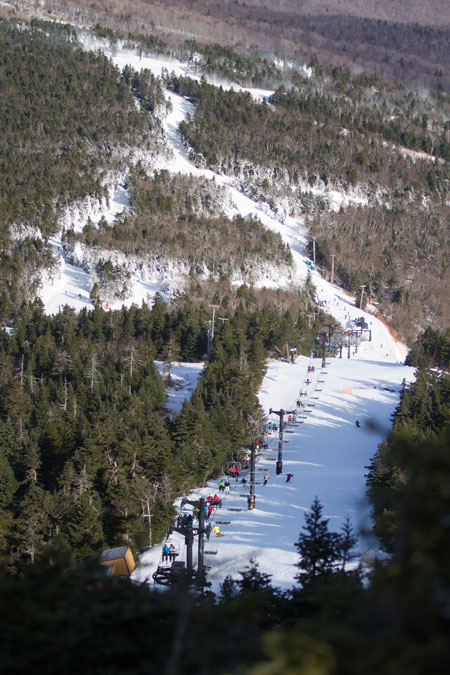 Killington resort, Vermont of the United States is a paradise for snow fun.
Fifty years after first cranking up its lifts, Vail celebrates its golden anniversary this winter with a packed slate of events.
In addition to reliable snow across the area's 193 trails, this February features two multiday on-mountain events.
At the Winter Mountain Games presented by Eddie Bauer, Feb 8-10, athletes race in categories like ice climbing, ski mountaineering, snowshoeing and on-snow mountain biking.
And the Burton US Open, the world's longest-running snowboarding competition, has moved from Vermont to Vail, where it runs Feb 25-March 2. (vail.com)
MARCH
SHIGA KOGEN, JAPAN
There is a different reason to visit. The region, just east of the city of Nagano, is home to some of Asia's best skiing, particularly Shiga Kogen, a network of interconnected resorts with more than 50 lifts and hundreds of runs.
You can ski for days without taking the same run twice, and the high altitude - above 1,980 meters - gives the area one of Asia's longest ski seasons, from late November to the end of April. And Shiga Kogen's sprawling size means that the slopes are rarely crowded, with lifts that often have no lines at all.
Many of the ski area's hotels are built around hot springs. Visit Jigokudani Monkey Park to see macaques meditating in the water. (ski-shigakogen.net)
APRIL
VALDEZ, UNITED STATES
For many expert skiers and snowboarders, heli-skiing is the holy grail, and there's no more sought-after destination than Alaska, where the terrain is steep and wild and the snowpack is generally more predictable than in other, more avalanche-prone regions.
April's longer days and milder weather make it a perfect time to go. One entry point can be found 48 km from Valdez, on Thompson Pass in the Chugach Mountains.
    The recently reopened 24-room Tsaina Lodge lies next to the helipad for Valdez Heli-Ski Guides, which operates within a 6,470-sq-km permit area of glacier-carved terrain that makes the typical ski-area run seem like a highway on-ramp. (valdezheliskiguides.com)