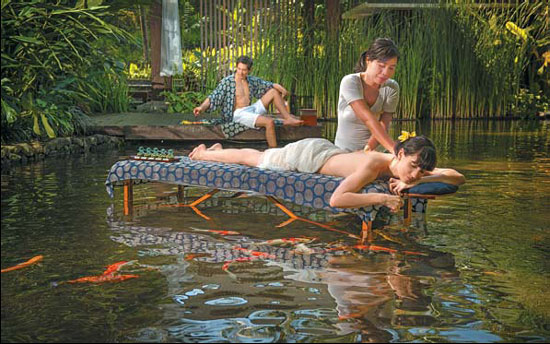 Conrad-Bali's award-winning Jiwa Spa is luxury personified. Provided to China Daily
I'm no longer a spa virgin.
Previously, the idea of my bare body being the focus of a stranger's attentions and manipulations was slightly unsettling and possibly a little too stimulating.
Related: Eat, pray, message
That, and I long ago accepted that it would be a waste of time, money and energy for my aging body to be made over into something younger, more toned and healthy - even if it was possible.
Melanie James, in charge of Conrad-Bali's award-winning Jiwa Spa, however, is not about to accept this and brims with confidence that I will be converted to the cause.
"Spa virgins are my favorites," says the Australian, rubbing her hands at the thought of my initiation, before explaining the benefits of massage, essential oils and moisture masks.
"It's all about creating a human connection, healthy inside and out," she says, insisting the treatments will be both a physical and mental boost.
Even so, it is with some trepidation that I set aside my reservations and am introduced to Ashi, a Bali local, who will be my spiritual guide to the mysteries of "wellbeing".
We disappear into the tranquil and immaculate spa environment and Ashi does her best to put me at my ease by pouring a cup of ginger flavored green tea, puts on an ambient soundtrack and establishes I have no serious health or skin conditions.
Then we get down to business and I climb face down on top of a treatment table, with a Vichy shower, that rains soft warm water up and down the body. At first I can't stop thinking of Chinese water torture, but gradually I am lulled into a state of semi-relaxation and negative thoughts are gently washed away.
Then, it's time for my rubdown. Ashi is gentle but nevertheless probes away at aches I never thought I had and time passes so quickly that when my reverie is concluded after 60 minutes, I am surprised that it was so painless and pleasurable.