Zhenfeng Bridge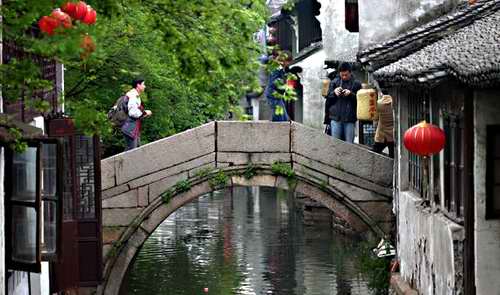 Zhenfeng Bridge, a one-arched stone bridge, was rebuilt in the 7th year of Emperor Chongzhen of the Ming Dynasty (1634) and the 4th year of Emperor Yongzheng of the Qing Dynasty (1726), respectively.
It is 12.2 meters long, 2.8 meters wide and 4.4 meters in span. The bridge looks as before, with intact arch, motley stones, and medlar branches growing out of rock cracks. It remains bestraddling the river after renovation, projecting age-old features.
There was a liquor shop to the northwest of the bridge, looking up to the busy street. Clients would drink their fill in face of the charming scenes. It was a place for members of the Nanshe Society, including Liu Yazi, Chen Qubing, Wang Dajue and Fei Gongzhi, to meet. Thus it is known as Milou.