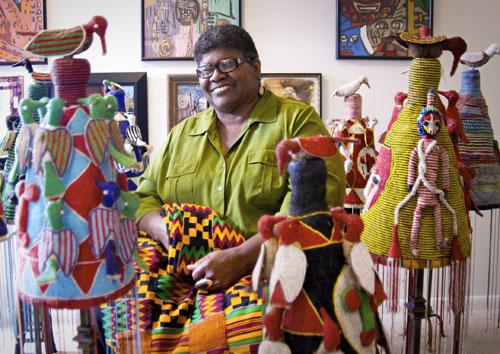 Carolyn Mazloomi is a self-taught quiltmaker who was inspired by folk artisans in the Appalachian mountains of Kentucky. Photos Provided to China Daily
Traveling exhibition is in the spotlight over the Thanksgiving holiday in Yunnan, featuring works from US quiltmakers. Mike Peters reports.
It is as American as a county fair, as low-tech as Tinker Toys, and as inspirational as an eagle flying over amber waves of grain. The quilt, that rustic bed-warmer that granny made with her own hands, has long been cherished as a "patchwork", a symbol of what's right with the United States since the place was a scattering of British colonies.
That's why Americans who happen to be traveling in Kunming over the Thanksgiving holiday may feel unexpectedly right at home if they visit the Yunnan Nationalities Museum. Inside, the traveling exhibit in the spotlight is The Sum of Many Parts: 25 Quiltmakers in 21st Century America.
"The exhibition highlights a range of quilting styles and techniques," says Stephen Manuszak, program manager for one of the show's sponsors, "while providing an opportunity for Chinese audiences to connect with American culture through our shared love of textile arts."
As the show's name suggests, this is not an antique show, but a fabric collection that has a place in the modern world. And while mountain folk have kept the art alive for a couple of centuries, some of the quiltmakers in the show are urban professionals.
Carolyn Mazloomi, an aerospace engineer who lives in Ohio, is a self-taught quiltmaker who was inspired by folk artisans in the Appalachian mountains of Kentucky.
"My early quilts were traditional patchwork styles," she says. "However, I quit making them because I could never get the angles to match. As an engineer, I was frustrated no end. So during this period I began making 'art quilts', where the emphasis is on the design elements and not so much on precision piecing."
China has seen Mazloomi's craft work before. She curated a quilt show in 1995 that was part of the UN World Conference on Women held in Beijing. Her pieces have been widely exhibited in the US, and she has written six books "that address African-American heritage and quilting".
The other 24 quiltmakers in the US embassy-organized exhibition come from across the Midwest and southern states - and in the case of Patricia Lei Murray, Hawaii.
When her children were small, Murray often brought needlework with her to school activities and sports practices. That gave her plenty of practice, and like much of the quiltmaker's art, the results have the patina of family.
In the China show, her quilt titled Ku'u Kanae I ka La'l o ka Malu is a sturdy fantasy in green, repeats lines of stitches to make a monstera pattern, a giant-leafed philodendron known for its strength, endurance and grace.
Those are qualities Murray saw magnified in her father, to whom she dedicated this artwork.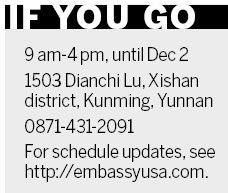 Lovingly made by hand to keep kids or lovers warm for generations, quilts bring out the sentimental in givers and receivers.
The best-of-show in that department may be Our Love Ring, with its interlocking patches of jade, amethyst and white, by Gwen Procter Johnson.
She and her late husband were secretly married after a courtship of almost two decades.
When he asked her to make a special bed cover for him before their marriage, she refused because they weren't yet married.
But propriety allowed her to sell the quilt to him.
"I ended up with a husband, the money and the quilt," she says, laughing, years later.
After the Kunming show, the exhibition will tour such cities as Nanning, Changsha, Dalian and Beijing in 2013.
Contact the writer at michaelpeters@chinadaily.com.cn.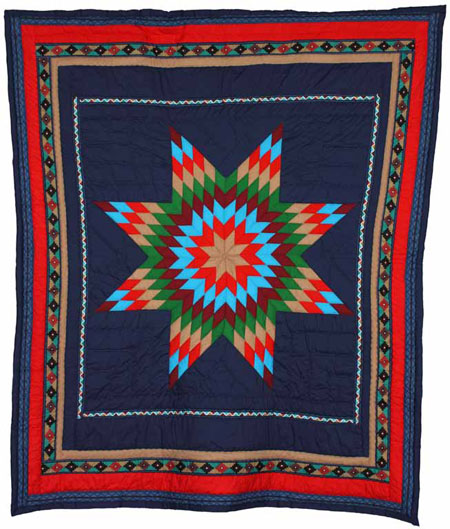 The exhibits on show are from 25 US quiltmakers.