Texture, color, flavor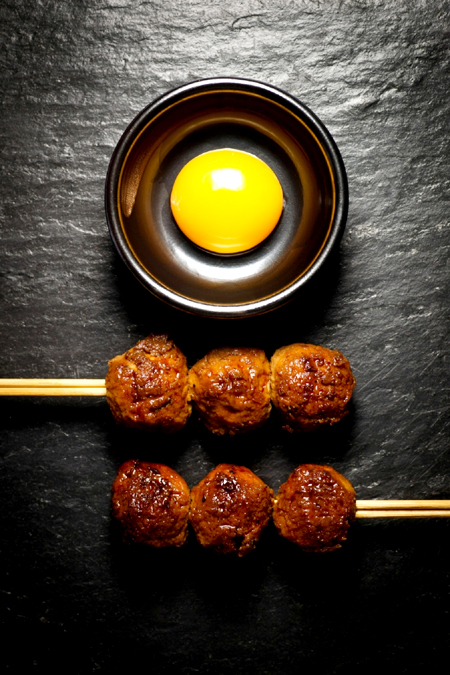 Charcoal grilled minced chicken /Photo provided to China Daily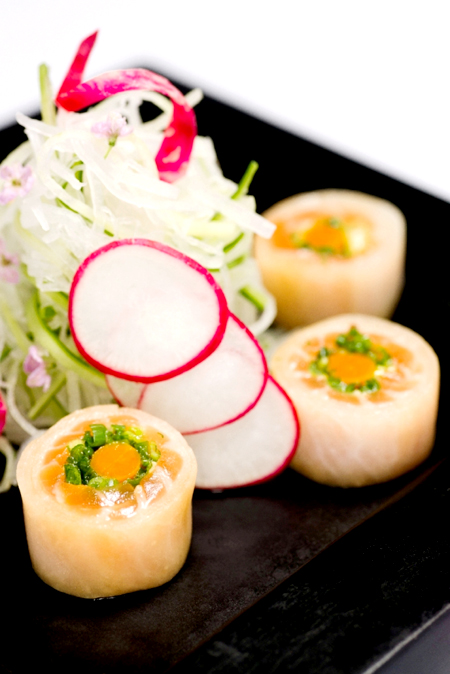 Salmon and soy marinated burdock. [Photo provided to China Daily]
A good Japanese chef takes a lot of care incorporating a tapestry of textures, colors, and flavors into a meal, making it a feast for both the belly and the eyes. How it looks is often as important - and in some cases we would actually argue more so - than how it tastes.
Shiro, which means "white" in Japanese, is located in Hysan Place and is a welcome addition to the neighborhood. Formerly located in Pacific Place in Admiralty, Shiro is now on the 13th floor of the building that has replaced Hennessy Centre in the heart of Causeway Bay.
Shiro has gorgeous high ceilings with a color palate that does not stray far from white. The textured lamps above the dining bar are made from an amalgamation of individual silk cocoons that help to show off the white quartz bar. Mirrors are used conspicuously to give diners a feeling of spaciousness - a welcome change from the usual compactness of most Japanese restaurants.
The signature Y-shaped sushi conveyor belt near the entrance of the restaurant is always crowded. The food here looks good and thought has definitely been put into the presentation of the dishes.
The spinach with sesame sauce is a personal favorite and is an interactive dish - meaning you are provided with tools to grind your own toasted sesame to release the nutty oil and aroma, to which you add sesame sauce. Then you dip the cold spinach rolls in. It's a traditional dish that Shiro has made fun to eat.
A few signature dishes include the salmon garlic sushi served with soy marinated burdock and radish carpaccio roll salad, seared scallop with cod roe sushi, tiger prawn tempura with green tea salt, charcoal grilled minced chicken on skewers, and the Shiro ramen tonkatsu served with roasted pork and vegetables in a thick milky pork stock.
The garlic and salmon combination is not common in Japanese cuisine and was a refreshing departure from plain salmon sushi.
Minced chicken skewers were delicately seasoned with a nice crunchy grilled exterior and a soft and tender inside.
The milky pork stock the ramen is served in is the heart of the dish. Shiro's chef, Tatsuya Iwahashi, has used a family recipe that was passed down to him when he was 8 to produce the rich and flavorful soup. If you are a ramen fan, then this one is definitely worth a taste.
sundayed@chinadaily.com.cn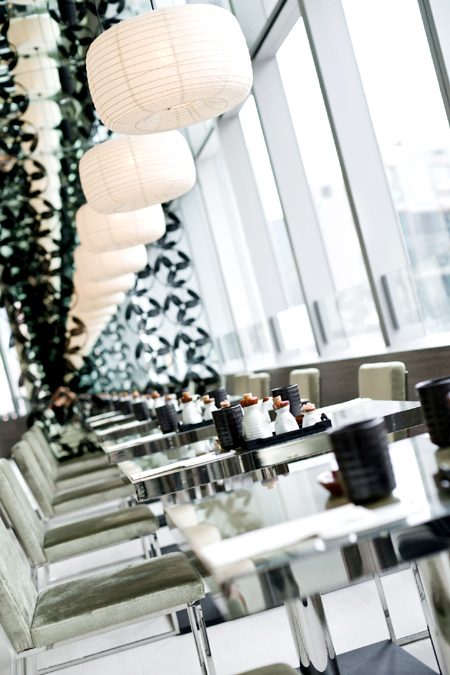 Shiro Interior [Photo provided to China Daily]