Cradle of Chinese civilization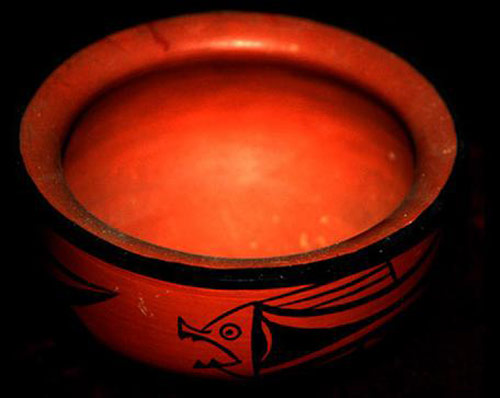 The pottery basins with fish body designs from the Neolithic Age were unearthed in the 1950s in Banpo Village, Xi'an of Shaanxi Province. They are a testament to ancient Chinese civilization, dating back to 6000 years ago.
Not only did Shaanxi see the beginning of Chinese civilization, but it was also home to the capital of 13 dynasties and cradle of Chinese ideology.
It beheld the advent of the theory of Li, rites governing Chinese life for centuries. It also witnessed the ascendancy of Confucianism, an ideology that has dominated China for more than 2000 years.
Ritual vessels
The ritual vessels unearthed explicitly exemplify the system of Li established in the Western Zhou Dynasty (About 1100-771 BC), whose capital was Zhouyuan, today's Fufeng and Qishan counties in Shaanxi.
It's an elaborate system preaching and institutionalizing a rigidly stratified society where each member of community had his or her own role to play.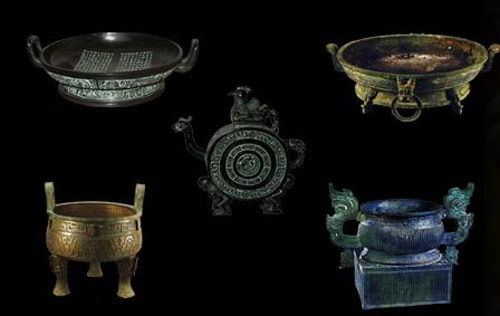 Left upperhand: Shi Qiang Pan
Shi Qiang Pan, water vessel, middle Western Zhou Dynasty, unearthed at Zhuangbai, Fufeng, Shaanxi, dimeter 47.3m cm.
On the Shi Qiang Pan was an inscription of 284 characters relating historical events that took place during the reign of the Zhou kings, which is of great importance to the study of the history of the Western Zhou.
Right upperhand: Lai Pan
Lai Pan, water vessel, Western Zhou Dynasty, unearthed at Yangjiacun, Baoji, Shaanxi.
Middle: He
He, wine vessel, late Western Zhou Dynasty, unearthed at Qijiacun, Fufeng, Shaanxi.
Apart from being used in ceremonial ablutions, it also served as a container for water to dilute wine, and thus belongs to the category wine vessels.
Left lowerhand: Lai Ding
Lai Ding, cooking vessels, Western Zhou Dynasty, unearthed at Yangjiacun, Meixian, Shaanxi.
Ding was viewed as a symbol of authority and status. The lower rank a person was, the less Dings he could use. The king could use nine Dings, the dukes seven, the high officials five, and the lower officials three or one.