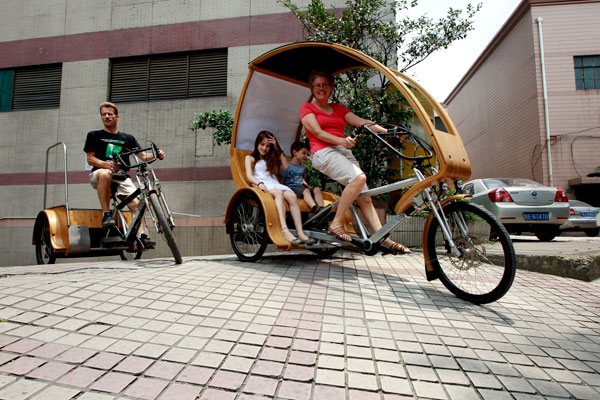 Chris Trees (left) and his family are on a mission to give pedal power new chic in Shanghai. Gao Erqiang / China Daily
An expat couple finds old-fashioned charm and green-energy promise by adapting traditional Chinese tricycles. Xu Junqian pedals after the story on the streets of Shanghai.
While many expatriates in Shanghai are switching off between the handy two-wheeled bicycles and speedier four-wheeled cars to commute in the city's smoggy, anarchic traffic, a British engineer and his French wife are looking at an in-between solution: the three-wheeled cart. It's not the clunky, outdated Chinese sanlunche, or tricycle, though Chris Trees was inspired by that traditional vehicle for his invention. The Briton's Treecycle is a hipper, more up-to-date electric motor-tricycle sleekly crafted from bamboo and steel.
Trees and his wife, Florence, not only create a scene whenever they travel with this eye-catching misfit on the streets of Shanghai, they are also resolved to stimulate a new surge of bike-riding with their "three-wheeled BMW".
"(Traveling) in a car, it's dreadful. On a bike, it's great," says Chris, 51. His "Treecycle" combines his family name and a homophone of the word "tricycle".
"You get fresh air, more exercise, human contact, and fewer bills," adds his wife, sitting comfortably in the back of the tricycle under the beautifully shaped bamboo canopy after the couple shuttles through a noontime traffic jam. "And the one thing you don't get is pollution."
The Treecycle, with a starting price of 40,000 yuan ($6,396) each, can seat two to three people apart from the pedaler and can travel as fast as 110 kilometers an hour, or 50 kilometers when running without electric power.
The cart has borrowed some of the automobile's modern technology, including speed control, the windscreen, brakes and solar-power lights. It boasts a very smooth-looking silhouette, with sleek lightweight steel and fine bamboo covers made from OEM factories in Fujian province.
About a dozen of the innovative vehicles have been sold, all to foreigners. Some are expats living in Shanghai and some now live back home in Europe.
"Many foreigners are frightened by traffic here," says Florence. "It looks crazy, but it actually works, especially for the rather flexible bicycles." She says the Treecycle has become their only mode of transportation in Shanghai, however fast they need to travel.
The Trees came to Shanghai five years ago, riding a job transfer offered by an international advertising company. Like many expats in the city, the couple quickly became part of the swelling army of bike enthusiasts who can recite an endless list of the pros of two wheels versus four wheels.
But it wasn't until they gave "an unwanted gift" months after they settled down in the city that the Treecycle was born.
"We were invited to the wedding of a couple from our office. So I came up with something cool and very local as a wedding gift: a tricycle with me as the pedaler," Chris recalls.
Despite unanimous discouragement from other colleagues in the office, the tricycle, bought for 665 yuan from a second-hand market and decorated with red and gold Chinese traditional gadgets, became an attention-getting surprise at the wedding.
"I found how people cold-shoulder tricycles because they are associated with poverty and hard work," he says. "But I also learned how appealing they could be if they are well-formed."
Suddenly motivated, Trees quit his job and took up screwdrivers and hammers to start manufacturing the carts in a home workshop that's about 20 square meters, near a terrace that overlooks the beautiful skyline of Shanghai.
Now, the couple have produced eight prototypes for different uses, carrying goods or people, and founded the company Metropolitan Green Technology to market the tricycles.
Handling everything by themselves, the parents of a son and daughter in their 20s said their biggest problem is financing and licensing. In China, he says, licenses for new tricycles cannot be issued. But tricycles for non-commercial use are generally not issued fines by traffic police, he says.
"Every so often, I get people in Ferrari or Porsche winding their windows down and telling me haoche (meaning 'nice car' in Chinese)," says Florence, who like her husband can speak very little Chinese.
While the vehicle hasn't appealed to Chinese as much as to foreigners, the Trees think there will be a market for their vehicles before too long.
Because of traffic, parking and pollution issues, Florence says, "people are starting to hate cars". She's confident that an environmentally friendly tricycle at a price that is much lower than a car plate in the city is a sure thing. The bottom price of a Shanghai license plate peaked at a record-high of 62,100 yuan in August, according to the Shanghai Commodity International Auction Co.
Francesco Budini, a friend of the couple, is one of the earliest users of the Treecycle.
The 29-year-old education entrepreneur says he fell in love with "the elegance of the shape and balance between bamboo seat and metal frame" at the first sight of the vehicle, which now has become his everyday travel tool.
Chris, meanwhile, is just waiting for someone to steal one of his bikes.
"I already have many ideas ready for the theft problem," he says with a joking grin. But having the bikes stolen will be "a sure sign they have achieved popularity here."
Contact the writer at xujunqian@chinadaily.com.cn.