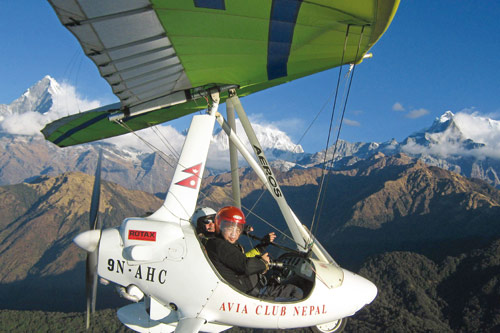 Wang Chen shoots aerial photos of Nepal's snow mountains in January 2010. Photos Provided to China Daily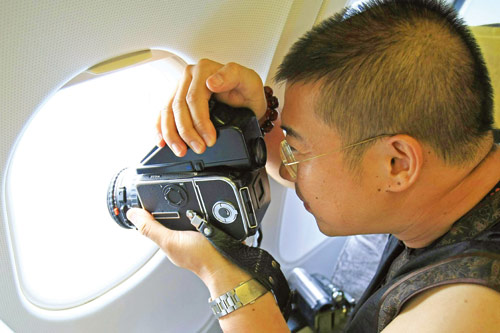 Wang Chen takes every chance he gets to shoot when he's in the sky.

An aerial photographer presents a panoramic view of the need for environmental protection. Zheng Jinran reports in Beijing.
If Wang Chen isn't working in his office, he's in the sky, camera in hand.
The entrepreneur from Guangdong province's Shenzhen has spent the past nine years shooting aerial photographs in more than 40 countries, as well as the North and South poles, recording environmental changes to create public awareness of the need for protection.
The 47-year-old majored in photography in university and founded a photographic printing and publishing company in 1983.
He has since continued publishing books of his snapshots.
"Photography is my life," Wang says.
"It has gone beyond being a hobby to becoming my religion. I believe in it so strongly that I'm willing to sacrifice for it."
He entered the field by shooting landscape photographs. "But I didn't feel any accomplishment from that," he says.
Everything changed the first time he saw an aerial photograph in 1986, he says.
The image showed the silhouette of a bird's back as it flew over an island.
"It was enlightening, and I took so much from it that I decided to do aerial photography myself," he recalls.
But because of practical obstacles, such as finances, it took him 17 years to realize this dream.
Wang traveled to the Hengduan Mountains in Southwest China in 2003 and shot photos of them from a helicopter hovering above 6,000 meters.
Hengduan's peaks range from 1,300-6,000 meters in altitude and are rich in biodiversity.
"While I got an unbearable headache, I also got marvelous pictures," Wang says.
"It was a new start in life because it was a new way to discover and express my feelings about nature."
He says the experience was so exceptional that he remembers every detail of it down to the camera model.
From that day on, Wang was obsessed.
He spent the following three years flying over all of the country's major topographical wonders, including the Qaidam Basin and the Qinghai-Tibet Plateau, and many large cities, including Guangdong province's Shenzhen, Zhejiang's provincial capital Hangzhou and Hong Kong.