Savoring Chinese micro-towns: Zhejiang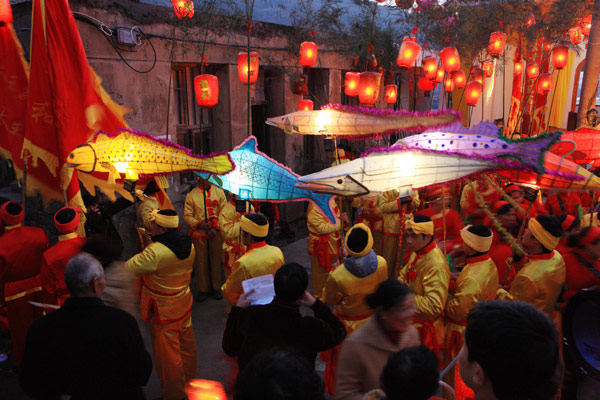 Locals parade seafish lanterns during festivals. Guo Weimin/Provided by Traveler Magazine
Dongtou's island appeal
Zhejiang's Dongtou is quite similar to Fujian's Xiamen with its burning sunshine, boundless sea, tanned skin, and summer typhoon. In fact, many Dongtou islanders speak southern Fujian dialect, which makes them unique as they are surrounded by people who speak Zhejiang dialect.
On the harbor, there is a Mazu Temple guarded by a lady of more than 80 years old, who has been the temple guide for as long as the villagers can remember.
Stepping into the small ancestral hall, visitors will find what look like red-painted timber piles behind the incense stand. These are actually fish bones from the 1960s.
Groups of seagulls are often seen flying around the harbor. The birds are considered sacred and are the fishermen's most reliable friends. They direct the fishermen to where the fishes are and make a special sound before rainstorms approach.
If you are in the mood for some crabs, you can find plenty on the beach.
Dongtou has as many islands as fishing villages, beaches and rocks. Each island has a name and a story - ask any villager, they will be happy to share with you some of the bizarre tales.
If you go
-There is direct bus from Wenzhou to Dongtou.
-Dongtou is well-known for its seafood.
-You can go fishing with a local travel agency.
Adapted from an original story which first appeared in Traveler magazine.