Starting from Shanghai: route 2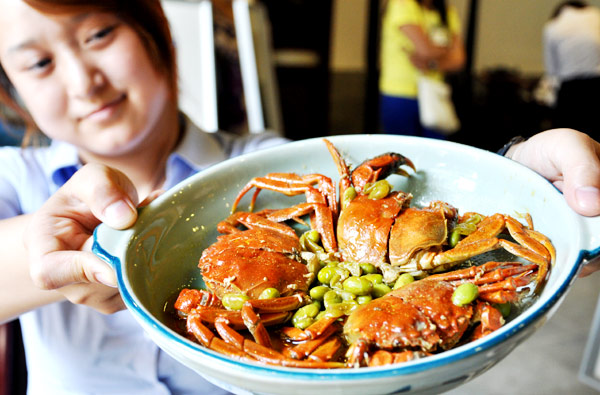 Hairy crabs in Yangcheng Lake is a popular dish despite the escalating prices. Zhu Guigen/For China Daily
A leisure trip to Yangchenghu Lake to enjoy some hairy crabs has become a regular feature for many Shanghai families in the autumn.
Hairy crabs from Yangcheng Lake, in northeast of Suzhou in Jiangsu province, are considered the best in China because of its clean living environment and high nutrition. The annual output of Yangcheng Lake crabs is about 2,000 tons. Normally, the crab season lasts from late September until the end of December.
The price of crabs depends on their weight and not the number of crustaceans. In 2012, the average price for a 200-gram male crab is at least 80 yuan ($13), similar to prices in 2011. Prices of female crabs might be higher because of its delicious roes.
As market demand is much higher than the supply, there may be some fake products in the market. Authentic Yangcheng Lake crabs have a gray back with a slight black tinge, while their stomachs are pure white. The tips of the crabs' legs are golden.
There are more than 100 restaurants around Yangcheng Lake area to enjoy the delicious delicacy. Some restaurants allow visitors to catch the crabs themselves and they provide cooking services.
If you go: The driving time from Shanghai to Bacheng or Weiting is about 90 minutes, depending on traffic conditions.
Route: 1. Shanghai to Nanjing Highway toward Suzhou. Exit the highway at Yangcheng Lake Area and follow the sign to Weiting town.
2. Shanghai to Nanjing Highway toward Suzhou. Exit at Kunshan and follow the sign to Bacheng. You may take high-speed train to Yangcheng Lake station and take a taxi to the restaurants. The train travel time is 21 minutes.