Top of the world view

The Songtsam Meili is one of four Songtsam Lodges sitting halfway up the Meili Snow Mountain. The spectacular scenery can be enjoyed most of the year, but roads are closed in winter. Photos provided to China Daily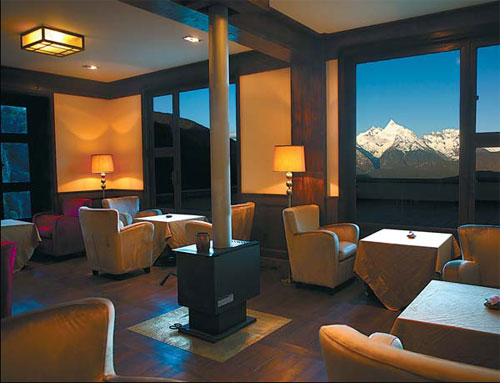 Huge picture windows in the library of the Songtsam Meili allow guests to be struck speechless by the majesty of the mountains in the distance.
Ellie Buchdahl goes on adventure in Shangri-La and finds that comfort and quirky charm are just some of the attractions offered by the luxury lodges there.
Related readings:


 Funny about that hutong


 Look clean, feel good


 Views in Kathmandu
Soaring mountain peaks, smiling ethnic villagers in bright clothes, and a sense of spirituality to convince the most ardent atheist Tibet is the top choice for every off-the-beaten-track China traveler. But we failed to meet the Tibet group requirements and had to find an alternative.
In my family's case, the authorities didn't see eye to eye with my mother having a different surname to my brother and myself. Mom, who had been relishing the idea of "roughing it", panicked.
She contacted a British travel agent for an alternative holiday to include Tibetan-style elements of natural beauty, rich culture and few tourists, but with the options of comfy beds and breakfast. The travel agent suggested northern Yunnan.
"There are some very nice small new hotels here now," he wrote. And so my mother, brother and I booked into three of the Songtsam Lodges.
Songtsam's founder Baima Dorji established his first hotel in Shangri-La (Zhongdian) in 2001 as a mid-range backpacker hostel. Inspired by boutique hotels in other countries, Baima wanted to combine comfort with quirky charm and allow guests to get up close to the local culture of his own hometown of Shangri-La.
Now there are four Songtsam Lodges - Shangri-La, Benzilan, Meili and Tacheng - with a fifth in Cizhong scheduled to open later this year. Together they form a circuit around the three parallel rivers - the Yangtze, the Mekong and the Nujiang (Salween).
At either 900 or 1,600 yuan ($140-250) per night (depending on the lodge), they are no longer backpacker hostels. But, as executive general manager Jia Liming told me when I met her in Beijing before we set off, the idea is still "to create the feeling of coming home".
"It's not a luxury shining lobby, a five-star hotel with a big bathtub," she says. "Our purpose is travel, to bring people to some really remote places where they can experience the culture and the nature in comfort."
For "luxury shining lobbies", you have the Songtsam Retreat in Shangri-La, a 75-bedroom whopper of a five-star hotel established by Baima in 2009 and now managed by the Accor group. It was here that we spent our first night in Yunnan.
The king-size beds of the retreat were nice, but we reckoned it must be a good sign that local officials seem to prefer the lodge.
The Songtsam Lodge had no "eggs your style" stand at breakfast, no spa center, and the complimentary toiletries were a tad more limited than those of the retreat. But from the small, shady front courtyard filled with trees, wooden trellises and wicker armchairs, it was obvious that the lodge was going to win on character.
Inside, polished floors and creaking, narrow staircases were crammed with Tibetan antiques - a wooden chest painted with tigers, for example, or a bronze statuette of a Buddha.