Tibetan herders lead environment effort
Herders of the Tibetan ethnic group are leading the charge in protecting grasslands and biodiversity in their communities, thanks to support from the government and environmental groups.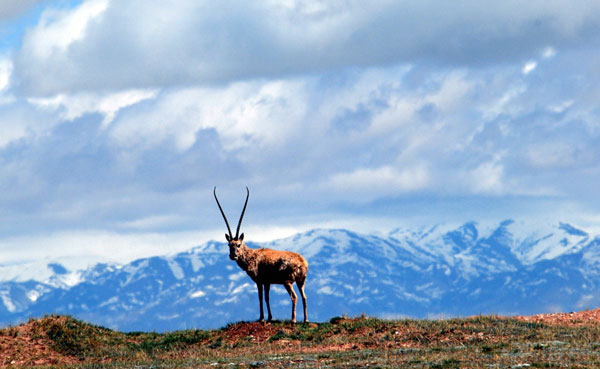 A Tibetan antelope grazes in the Hoh Xil Nature Reserve in Northwest China's Qinghai province. Xinhua
In Tsochi village, Qinghai province, families have given up parts of their grazing land and removed fencing to create better habitats for wild animals, including the Tibetan antelope, wild yak and wild donkey.
The village lies in the Yushu Tibetan autonomous prefecture in the Three-River-Source Nature Reserve. The reserve, at an average altitude of over 4,000 meters above sea level, is where the Yangtze, Yellow and Lancang rivers originate, and covers 360,000 square kilometers.
Razi Karma, the village head, said 58 households have resettled in Qumarleb county and Golmud city, and about 140 families have stayed, living in summer tents on the pasture and in new government-subsidized houses in winter.
Nomads are encouraged to limit grazing land to protect pastures from degradation. They have received 90 yuan ($14) from the central government for every hectare they do not use for grazing since late 2011, when the State Council issued a ruling designed to promote sustainable development in herding areas.
Since 2004, more than 200 Tsochi residents have joined a volunteer group, Friends of the Wild Yak, which provides monitoring data of wild animals four times a year.
Their regular patrols around the village help prevent illegal hunting of wildlife such as marmots.