A village's window of opportunity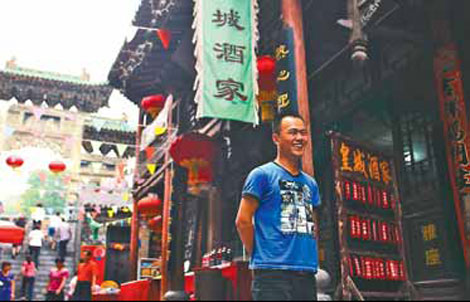 Yan Shaobo stands in front of his restaurant in Huangcheng village.
Related: Waking up to a new reality
The secret behind Huangcheng village's prosperity is to let villagers be their own bosses and offer them opportunities to realize dreams, says Zhang Jiasheng, head of the village in Yangcheng county, Shanxi province.
Guo Peiyuan, 70, used to live in a 100-square-meter yard together with his family inside the historic Chancellor Chen Tingjing Mansion. When he was asked to move out, he said no.
"I didn't want to leave the house, though it was very shabby," says Guo, who used to work for Yangcheng county government and retired to the village in 2003.
"But some villagers went to Beijing and Shanghai to research tourism and told us the future would be good."
The village committee offered allowances above 10,000 yuan ($1,570) for each family to move out of the site. New villas were built and given to the villagers and the village even paid to decorate the houses.
Now, Guo lives in a 500-square-meter, three-floor house, which is 10-minute walk from his old home. His house provides accommodations for tourists. In June 2011, an average of 12 visitors a day stayed at Guo's house, paying 25 yuan each a night.
Compared with the five-star hotels around, living in local villagers' houses is more interesting for some tourists, Guo says. All the villas are full of tourists during holidays and the price is the same, to avoid competition among villagers.
"The villagers are living together harmoniously because we work for the same goal," Guo says. "We don't work for anyone but ourselves, for a better life."
Yan Shaobo, who learned the suona, a Chinese oboe, at an art school in Yangcheng county, started work in the singing and dancing troupe of Huangcheng village six years ago, just to make ends meet.
Now the 26-year-old has found two jobs that are his passion: acting out the role of Kangxi Emperor of Qing Dynasty (1644-1911), and cooking in his restaurant.
At 9:30 am he puts on the dragon robe and performs a 20-minute drama, together with other 128 actors. The drama tells the story of the Kangxi Emperor's visit to the home of former chancellor Chen Tingjing.
Yan and his fellows walk through the square in front of the old mansion, which has become one of the most famous historic sites in Shanxi province and receives millions of tourists from around the country every year.
After playing the role of the Kangxi Emperor, Yan puts on his T-shirt and jeans and returns to his Huangcheng Restaurant, located on a street next to the historic site.
During the holiday and on weekends, the two-floor restaurant is packed with tourists. Yan has to hire cooks to help him prepare traditional dishes and snacks.
He gets 20 yuan a day for playing the emperor, while the restaurant makes more than 7,000 yuan a month.
"Shifting between the two roles is very exciting for me," says Yan, who started his acting career in 2007 and opened the restaurant in 2009. "At the beginning, I didn't take acting too seriously. But as more tourists arrived, I became more nervous. We repeat the show every day but I feel like a star while walking to the center of the square."
The other actors are villagers, who also have day jobs.
"They get paid every day from 5 to 10 yuan but they don't mind about the money. They just want to participate in the show," says Cheng Peng, vice director of Huangcheng village tourism office.
The 25-year-old Feng Kang, who plays cymbals in the village's singing and dancing troupe, arrived in Huangcheng eight years ago. He not only found a job but also met his wife, who was a tour guide in the village. They got married at the end of 2011 and will have their first baby in August.
"The village brought us everything," says Feng, who bought his second car in early 2012, adding the village gave him 40,000 yuan as an allowance.
To cater to the increasing number of tourists, the village has trained 100 tour guides, including 10 English tour guides. Most of them are from Huangcheng village.
Cheng Mudan, 25, is one of the tour guides and says the village paid her school fees, while tourism development is a guarantee of her future life quality.
"Young people in the village used to work on farms or work in the cities after graduation from middle school," she says. "However, with tourism developing so fast, we receive a higher education and get more job opportunities. It also offers us a broader window to the outside world."
chennan@chinadaily.com.cn