A tourism bridge is being built to link China and Serbia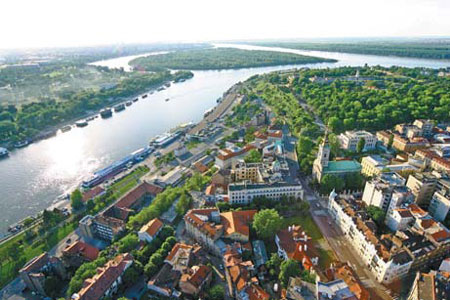 Belgrade thrills visitors with its lively cafe scene and nightlife. Provided to China Daily
The first Chinese group tour to Serbia is expected to take place this summer, marking a breakthrough in Chinese tourism to Southeast Europe.
Initiated by the National Tourism Organization of Serbia (TOS), the tour will allow about 50 Chinese tourists to spend five days and six nights in the Balkan country. The exact time and cost have not been announced yet.
TOS advisor Aneta Uskokovic considers China a robust source for outbound tourism.
"China is a key player in the global tourism market now, and it's the right time to be connected with this strong market," Uskokovic says.
The Annual Report of China Outbound Tourism Development 2012, released by the National Tourism Administration and China Tourism Academy, says mainland tourists made 70 million trips to foreign countries last year, up 22 percent from 2010.
"With more Chinese tourists traveling overseas, the group tour may draw more applicants to sign up for it and allow more people to know about Serbia," Uskokovic says.
The fascinating itinerary will enable travelers to immerse themselves in popular Serbian destinations such as Belgrade, the bustling capital city, with its lively cafe scene and nightlife. They can also visit Novi Sad, the country's second largest city, which hosts one of Europe's biggest and most popular music events, the EXIT Festival.
In addition to some universally appealing landmarks, such as Kalemegdan Castle of Belgrade and the Petrovaradin Fortress of Novi Sad, there are a few attractions specifically catering to Chinese tourists.
China and the former Yugoslavia were allies. As a former Yugoslavian nation, Serbia had a certain influence on the lives of Chinese people, especially middle-aged and elderly tourists, Uskokovic says.
Thanks to the countries' historical and political connections, many Chinese people are familiar with Marshal Tito, a towering figure in Yugoslav politics, and thus a tour to Tito's Mausoleum is also arranged.
Given that former Yugoslavian World War II movies, such as Walter Defends Sarajevo and Savage Bridge, were smash hits in China, there could be the presence of Velimir Bata Zivojinovic, the leading actor of both films, Uskokovic says, adding it won't be a problem if the veteran actor can make time.
To prepare for China's first group tour, employees at the arranged hotels and restaurants in Serbia have been learning Chinese and getting to grips with Chinese travel habits.
sunli@chinadaily.com.cn