Eyes of a Cat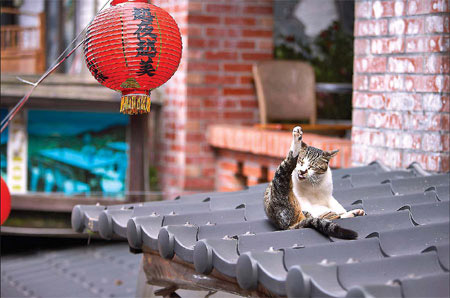 Peggy Chien (below right), who has taken street cat photos for seven years, says she wants the images to represent Taiwan's diverse scenery and customs.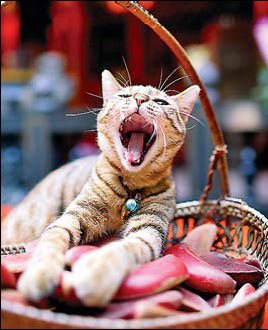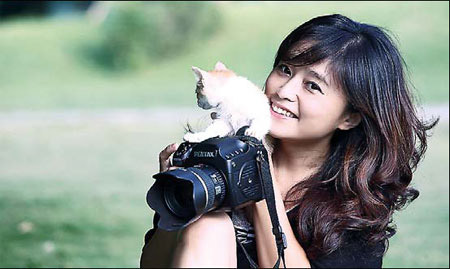 A Taiwan photographer captures the island from a feline's angle. Shi Yingying gets down on four paws to share the view.
The model poses before the camera as she averts her eyes from the prying lens and turns her head gracefully into another direction. Suddenly, she jumps onto the roof and vanishes without a trace, leaving the camerawoman somewhat disappointed.
"But that's just what cats do, you've got to be patient," shrugs Peggy Chien (or Chien Pei-ling) after seven years of photographing street cats.
"Most stray cats flee immediately at the sight of humans. Rarely do they allow us to look at them, not to mention letting their pictures be taken," said the 43-year-old photographer from Taiwan, who has spent six to seven hours waiting for one perfect capture of cat. Chien won the top prize at a photo competition in Japan's Tashirojima Island, where people worship cats as gods, in 2009.
Once a piano teacher, Chien says her connection with street cats came from her veterinary husband in 2005. "I've been rescuing street cats for a while before I started taking pictures of them - I'm trying to rectify the name for stray cats through my lens - they're not smelly creatures, they're adorable feline charmers," insists the "Cat Lady".
More than just a nickname, "Cat Lady" is also the name for Chien's blog where she posts photos and videos about cats. With a different angle of observing - the one that is about 25 centimeters high (height of the cat) - Chien's witty pictures are not only about capturing her feline subjects, but also about looking at Taiwan from a new perspective.
"I'm not taking cat photos only because I love cats, I'm filming them as I want to represent Taiwan's diverse scenery and customs," Chien says, pointing to one of her pictures with a traditional temple in a vibrantly colored setting. "The cat as the character hurrying in different architectures and backgrounds of Taiwan in my interpretation."
Aiming to promote Taiwan's culture, Chien has held special exhibitions of cat photographs in both Taipei and Shanghai. She also published a few photo books and postcards of cats in Taiwan. Besides attracting an audience to her exhibitions and her books, the photographic artist also drew tourists to Houtong, a village in the mountain area of Northern Taiwan where she took cat photos - successfully transforming the old mining village into a popular tourist attraction.
Twenty miles north of Taipei, the small mountainous community of Houtong once prospered in the 1970s with its coal and gold resources. But when the gold ran out, the population of the village slid from over 3,000 in 1990s to less than 100. Now thanks to the "Cat Lady", this tiny village of 200 is fast reinventing itself as a cat-lover's paradise.
"The villagers began to feed wild cats with leftover such as fish and rice about 10 years ago. It attracted more cats for sure but it also caused issues such as the bad smell and the huge increase in numbers due to the unrestricted breeding, all of which brought down the locals' life quality," Chien says.
Chien's husband and his NGO members came to Houtong to help in 2007 so that "almost every local cat was vaccinated and about 70 to 80 percent of them were neutered". Volunteers also tracked the estimated 100 furry residents by naming them and they put up signs: "We don't eat human food" and "Dogs are not welcomed".
Stray cats now become a noticeable attraction for thousands of cat lovers, photographers and backpackers, and the village is filled with ubiquitous cat road signs and visitor instructions on cat-watching.
On a normal weekday afternoon, dozens of white, black, gray and calico-coated cats wandered freely amid Houtong's craggy byways, while visitors capture the scene with cellphone cameras and tickle the feral cats with feather-tipped sticks.
"Nowhere else in Taiwan can you find feral cats so close to people - they live in harmony with both local residents and tourists," says Chien proudly, adding that she hopes the world will see the magic of this town through the cats' eyes.
According to Houtong's local tourism bureau, the number of tourists increased from 600 to 45,000 people per month after Chien and her friends' help.
But it's never enough for Chien, especially after she visited Xiamen's Gulang Island in Fujian province earlier this year and observed stray cats' miserable life. "Street cats there are scared of people, they're thin and weak, sick and dirty," Chien says sadly.