Airline news and deals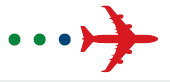 Beijing-Berlin: Hainan Airlines will increase flights between the capitals from four times to five times a week. The new flight schedule will begin on July 1, with flights leaving every Monday, Wednesday, Friday, Saturday and Sunday from Beijing to Berlin, and back on the next day. Two classes of seats are available. More information at www.hnair.com.
Wuhan-Singapore: China Eastern Airlines is to open direct flights from Wuhan to Singapore from April 20. A round-trip flight from Wuhan takes off every Monday, Wednesday, and Friday. The company will offer special reduced fares for the opening.
More information at www.ceair.com.
Chongqing-Helsinki: Finnair, Finland's largest airline and flag carrier, will launch a new direct flight from Helsinki to Chongqing on May 9. It is the first direct service launched by a European airline to this inland city, located in Southwest China.
Flights will be operated on Airbus A340 aircraft four times a week. The route will take eight-and-a-half hours. The exact flight schedule has not been announced yet.
More information at www.finnair.com.