A jungle girl at heart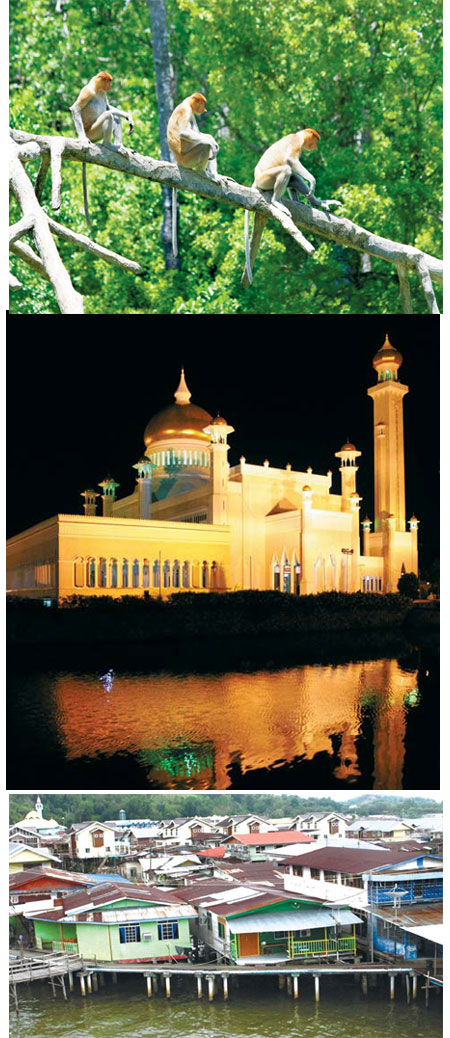 From top: Canoeing through Ulu Temburong National Park offers close looks at long-nosed monkeys. Provided to China Daily. A night scene around Omar Ali Saifuddien Mosque. The water village in Brunei Bay. Photos by Zhang Zixuan / China Daily
Related readings:
An epicurean adventure awaits you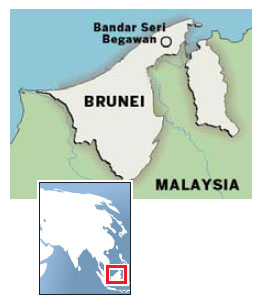 The modern-day wonders of Brunei pale beside its natural splendors for reporter Zhang Zixuan.
When I watched the movie Les Filles du Botaniste (The Chinese Botanist's Daughters) several years ago, I wasn't caught up by the movie's lesbian love story, which is supposed to be the major hook. Instead, I found the botanist's arboretum fascinating. In 2011, I failed to find the forest scene in Vietnam, where the movie is said to have been shot. But, recently in Brunei, I was reminded of the arboretum when canoeing through Ulu Temburong National Park.
Brunei is known for several things - it is a Malay Islamic Constitutional Monarchy, one of the richest countries in the world, is full of petroleum that is cheaper than Coca-Cola, and its six-star Empire Hotel is crammed with real gold objects.
But there are other things about the Southeast Asian country that are not so well known. For example, Brunei's full name is Brunei Darussalam, meaning "abode of peace" in Malay. And three-quarters of its land is covered in virgin forest, which is where I think the country's true charm lies, rather than in its wealth.
Our tour guide, Frankie, warned us in the capital Bandar Seri Begawan that the next day's adventure in Ulu Temburong National Park would be tough.
We took a 40-minute motorboat ride, a 20-minute bus ride and canoed for 40 minutes to reach Temburong, which is geographically separated by Malaysia from the rest of Brunei.
Our motorboat was sealed and small, and glided along Brunei River with breathtaking swerves, creating curtains of water.
Then we transferred to the bus, which passed through a military base, where a sham battle was being conducted.
What followed was my favorite part - the canoe ride. My brain went empty and relaxed when the long and narrow boat moved ahead. I was spellbound by the surroundings, and images from the movie Les Filles du Botaniste flooded my mind.
Then, the canoe suddenly stopped in the middle of the river and I was dragged back to reality by our guide telling us we had run aground and needed to push the canoe.
In the afternoon, we set out for a waterfall but were caught in a huge rainstorm that nevertheless made the humid conditions more pleasant.
We closely followed our guide, because, to maintain the pristine nature of the forest, there were no pathways or signs. Even so, we required a rope to climb the cliff.
The waterfall was quite small, but not disappointing, since the hiking experience was so wonderful.
That night, our guide, who runs the resort we stayed at, cooked a barbecue for us before taking us on a night walk.
Wild beasts howled, while our guide pointed out with his flashlight big spiders, harmless snakes under banana leaves and glowworms.
We returned to civilization the next afternoon, and my phone, which had gone dead in the forest, was once again functioning.
We visited the 44-meter-high Omar Ali Saifuddien Mosque and were astonished by its gold top, Italian marble floor, British crystal windows, Saudi Arabian plush carpet and the dome picture composed by 3.5 million pieces of Venetian colored glass.
And, of course, we enjoyed the sea-view room of the luxurious six-star Empire Hotel, which cost $1.1 billion. The rumor was true - real gold stuff is everywhere.
Nevertheless, I felt my heart belonged in the jungle.