Bali days, Bali nights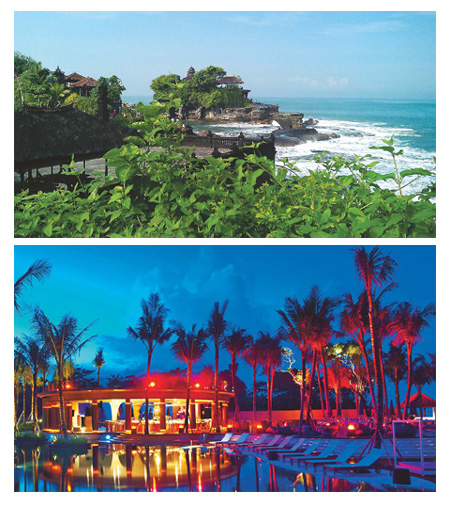 Sun-soaked days cooled by the salt sea breeze and romantic nights in luxurious resorts are only some of the attractions Bali has to offer. Provided to China Daily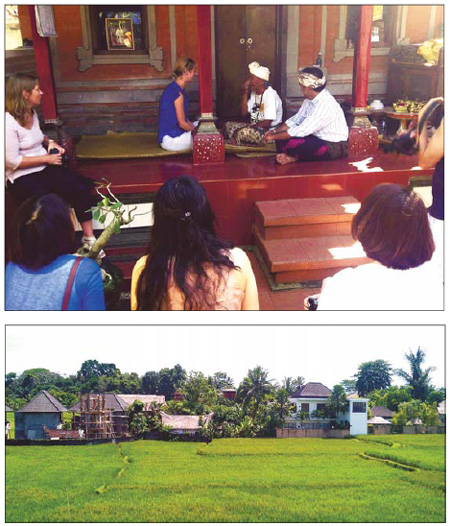 Ketut Liyer, the Ubud medicine man made famous by Elizabeth Gilbert's novel Eat, Love, Pray, is now a busy local celebrity. Bali's green countryside is a patchwork of verdant ricefields that provides eye respite for the urban visitor.
The famous island getaway of Bali is only now getting popular with Chinese tourists. Zhang Kun samples the attractions.
There are four or five flights to Bali from Shanghai every week, and on days when there are no direct flights, passengers can still transit in Hong Kong or Singapore to Denpasar. Easy access has made the resort island an increasingly popular destination with travelers from China.
My first visit to Bali was in 2008, where I stayed at a hotel in Nusa Dua, a mature resort area about 40 kilometers from the airport. It was quiet and nice, ideal for families on vacation.
This time I was invited to Seminyak on the western side of the island to sample the delights of staying at the newly opened W Hotel.
Seminyak is popular with tourists as well as expatriates, and the beach attracts surfers.
"It's posh and lively, where things happen, where you come to see and to be seen," Magda Hutagalung, president, owner and director of PT Dua Cahaya Anugrah, W Hotel's landlord sums it up.
My room had an ocean view, and on the first night, a party was going full swing at the beachfront bar. Looking out from the balcony, I could see the row of colorful lights stretching out towards the sea, reflected on the dancing waves. The music went on until the early morning.
Art and handicraft have always been assets here. Many shops sell intricately carved wooden statues and furniture, and most will arrange international shipping.
Most of the locals in Bali are Hindu, an exception in Indonesia, with its largely Muslim population. Vivid images of Hindu gods and their beautiful temples provide endless inspiration for creativity.
W Hotels claim a corporate DNA stemming from innovative design and the Seminyak project made use of patterns and symbols drawn from Bali folklore and traditional culture, creating a modern minimalism.
Ivy Hu, a publisher from Taiwan, has visited Bali many times in the past decades. She remembers a time when tourism was less developed and little shops featured handicrafts of distinctive styles and technique. Shopkeepers used to turn off the light and doze in the early afternoon, when it was cool and quiet.
Now the island is crowded and congestion is common on the main street, Sunset Road, during rush hours. Many young people ride motorbikes zigzagging through the traffic, which seems to be hardly moving.
The next day we had a choice of two activities. We could sail off on a catamaran to Crystal Bay, or visit the famous "medicine man" from the book-turned-movie, Eat, Love, Pray.
The film had Julia Roberts in the lead role as American author Elizabeth Gilbert, whose account of her travels around the world after a failed marriage topped the bestseller lists. It followed her passage to India, Italy and Bali - where she found her purpose in life, and true love. In her travels in Bali, Gilbert had consulted Ketut Liyer, the medicine man who pointed out her destiny.
Liyer is now an accidental celebrity, and many tourists seek him out in his home in Ubud seeking advice or a palm-reading.
Freelance journalist Wang Shin-ting chose to meet the medicine man and told us that the bus took them through unspoiled countryside, where rice fields made beautiful green patchworks on the landscape.
Liyer's house has a traditional courtyard with moss growing on the garden path, and birds chirping all around. Liyer says he is saddened to see many gardens like his destroyed. Many local households are digging ponds in an effort to create landscaping that would attract more tourists.
You can also stay with Liyer and pay no more than $20 to $30 a night.
I opted for the boat ride to Crystal Bay and we drove to Benoa Bay, where we found a light sail boat waiting. The sail was hoisted and we set out to sea to the sounds of a deejay specially invited for the trip, and enjoyed the cocktail concoctions of our resident mixologist.
After about an hour and half, our catamaran stopped at the famous Crystal Bay, where the water was sparkling clear. The boat dropped anchor and eager swimmers diced into the sea.
Soon after we sailed, I had felt a little sick, and it became worse after we anchored and the vessel started rocking. My fellow passengers told me I would feel better in the water and I decided to follow their advice.
After the shock of the first chill wore off, I began to enjoy the cool water below and the warm sunshine above. Looking around me, I could see an island nearby and a giant rock with trees and plants growing on it. White waves broke under a cliff in the distant and above us, the sky was a beautiful blue.
Our chef had fired up the barbecue and soon we had a huge lunch of sausages, chicken wings and beef. It would have been ideal if my seasickness had not come back, and I had to rush to the side of the boat.
To my great surprise, the remnants of my lunch attracted a shoal of beautiful fish that could be seen clearly in the sparkling water.
As the catamaran sailed back in the sunset, I was glad to stand on firm ground again, But I was already thinking, I have to come back and this time, I will remember to take my seasick pills and pack my SPF50 sunscreen.
You may contact the writer at zhangkun@chinadaily.com.cn.