Tourism changing face and fortunes of an ancient town in Guizhou province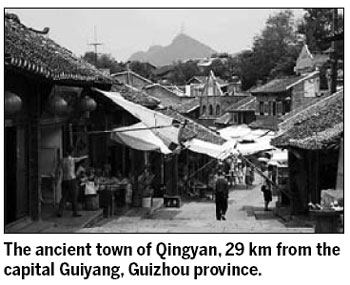 History has always been kind to Qingyan.
The ancient town located 29 km from the capital Guiyang, Guizhou province, was originally built to transfer military messages during the Ming Dynasty (1368-1644) and was also the command post of the Red Army during the Long March (1934-1935).
But its next legacy looks set to be a beacon for Guizhou's tourism ambitions as it helps to turn the poverty-stricken province into a holiday paradise.
Ten years ago only a few dozen people a week visited the famous town that is littered with historical and cultural relics. It now welcomes 1.7 million visitors a year, reshaping this once impoverished landscape into a tourist gold mine.
But hidden behind the embroidery and souvenirs that captivate visitors and the memorable locations that fuel the pens of travel writers, there's a real story to be told of the people who have lived here through generations of change.
Luo Wengfang retired from her job as an accountant to make candy for the tourists who started to trickle through her hometown. Now, life couldn't be sweeter.
"The average family here used to earn 2,000 yuan ($313) a year," the 60-year-old says. "Now there are lots of families here earning 100,000 yuan a year.
"Before 2000 few people here had been to a city or even seen a train. People couldn't feed themselves. The seniors had their living provided by their sons who went away to work. Now they eat well, dance in the morning, do tai chi in the evening, because life is so good.
"Most have started their own businesses and have made a very good life. They can afford to travel and want to see the outside. They want to go to Hong Kong, Taiwan and go abroad to Bangkok. I have my own American dream and I want to visit the US before I get too old."
Luo owns Huang's Sweets that employs 20 people, and has an income of nearly 2 million yuan, selling candy to tourists who come to view the monasteries, temples, cabinets, caves, courtyards and palaces from the Ming and Qing dynasties (1368-1911).
Streams of tourists now file past her business in the stone town as they hear the many stories of historical figures that were born or lived here from their flag-carrying tour guides. They include Zhao Yijiong, the first winner, or zhuangyuan, at an imperial examination during the Qing Dynasty in Guizhou province, and Chang Pinggang, the general secretary of Dr Sun Yat-sen.
Another of Qingyan's unlikely entrepreneurs is 79-year-old Yuan Qinfen. In her younger days she used to work in a vinegar factory earning 18 yuan a month. Her husband was a school director and earned 22 yuan a month.
When the tourists began to arrive the lifelong resident of Qingyan started her own vinegar brand. As the town became popular, so did her secret recipe made of rice, barley and Chinese medicine.
Twin Flower Vinegar is now one of the most famous brands in Guiyang and stalls selling local snacks such as tofu to tourists use the pungent liquid to cook. The family revenue exceeds 200,000 yuan a year.
Sitting outside her home that doubles as factory, Yuan, suffers from ailing health. Her eyesight is deteriorating, her bones frail and hands worn like old boots from years of hard labor, but she is still as sharp as a tack as she directs customers to the sales counter to purchase her vinegar.
"Life here used to be very hard. Now it is so much better," she says. "Everyone is getting richer and happier. It is great to see my family so happy and my neighbors doing so well."
Her four sons and one daughter have taken over most parts of the business, but she has given them a stern warning to continue her legacy: "Always keep the quality and be honest."
Her story is one of many echoed throughout the town that was originally built in 1378.
Liu Guoping, 62, is the 10th generation of his family to live in Qingyan, and has witnessed a lot during his years.
He said: "People didn't have jobs, there were big social problems and people would do bad things to get money." When asked how things have changed, his face lights up as he beams "People are happy, dress properly, have money and live a much better life. People smile now, they didn't before."