Tightrope drama in gala games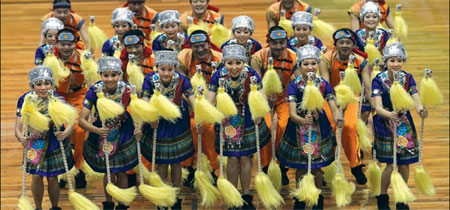 Guizhou delegation performs at the Ninth National Traditional Games of Ethnic Minorities. Wang Jing / China Daily
"Someone is going to get hurt today" - that was my initial thought as I walked into the stadium and first set eyes on Chinese tightrope walker Adili Wuxor.
The ethnic Uighur from Xinjiang province, dubbed the Prince of Tightrope Walking, was precariously edging along a 20-meter-high wire without a safety net.
His hair-raising act is one of 186 demonstration events at the Ninth National Traditional Games of Ethnic Minorities in Southwest China's Guizhou province.
It was clear some members of the crowd didn't have the gall to watch.
Their fears were justified. When he was just 20 years old, the gutsy daredevil fell 21 meters to the ground performing the heart-stopping stunt, leaving him in a coma with 17 broken bones.
Undeterred by his life-threatening injuries and several months in the hospital, he resumed the family tradition passed down for six generations, performing at every ethnic games gala since 1982.
Now 40 years old, he tiptoed, somersaulted, jumped - and at one point slid - across the thin wire with plastic plates on his feet, without the slightest form of any safety device.
Screams, gasps and applause echoed around Guizhou New Stadium followed by cheers and some audible sighs of relief as he successfully crossed the wire and rappelled to ground unscathed.
"I am proud to take part," he said with his feet firmly on terra firma. "This is a big event for ethnic groups all over China and I have been taking part in this since I was a boy."
The recklessly bold performer has become a celebrity since joining the Uighur tradition of tightrope tricks against his father's will when he was just 10 years old.
In 1997, he walked on a high wire 400 meters above the Yangtze River, crossing in just 13 minutes and 48 seconds. It broke the previous Guinness World Record of 53 minutes and 10 seconds set by Canadian Jay Cochrane in 1995.
He has now started a training school for high wire walking and hopes to have the stunt included as a competition in the 2019 Ethnic Games.
He departed the stadium while dancing to traditional Uyghur music, arms outstretched, shoulders shaking, as the crowd offered rapturous applause.
The carnival atmosphere of the games is a culture within itself. Part circus with an element of cave man, it offers a glimpse of what the "China's Got Talent" television program might have looked like of it was around thousands of years ago.
A group of nine people from the Hui ethnicity in Anhui province began a game of catch with 8 kg bricks that have metal handles attached in what is known as the stone lock.
The sport dates back to the Tang dynasty (618-907), when it was used it for training soldiers.
Group member Xue ZhouXun said they occasionally suffer injuries, but nobody is that concerned. "The hardest one is throwing it backward through your legs to another person," he added.
The next act to captivate the crowd was a Miao performance of walking barefoot on sloping blade in a show of courage. The event is meant as entertainment, but also carries a symbolic meaning that some things may be easy to climb, but harder to descend.
It is a message not lost even the youngest members of the audience. As crowds filtered from the stadium, a young boy no older than five stamps along the street repeatedly chanting "climb the black mountain, jump down to the fiery sea".