Bamboo drifting, not for everyone
The 17-year-old Wu Yueming is perched there gracefully on a 7.5-meter-long bamboo trunk in the middle of the river, using a long, thin strip of bamboo as a paddle to glide along with perfect balance and poise.
No, it isn't some escape scene from a kungfu movie and she's not being pursued by knife-throwing devils. Wu, a member of the Miao ethnic group, was competing in the ninth National Ethnic Games in Guizhou province, on Sept 12.
Her exotic sport, single bamboo drifting, originated in the Chishui River area of northern Guizhou, where local people used to cross the river standing on a bamboo strip.
But, this was the first time for the action to be included in the ethnic games as a sport.
The rules of the sport say that the bamboo must be a green fiberglass contraption to give it better buoyancy and a longer service life. It is also faster than traditional bamboos and can be taken apart for transportation.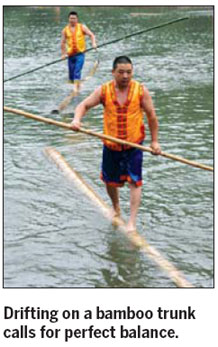 And, Wu who began training for the event last November came in a winner of the 60-meter and 100-meter race.
"The sport is a big challenge and has given my life a new start. I want to tell my family that I've grown up and you don't have to worry about me any more," Wu says with tears streaming down and the medal hanging around her neck.
Hu Chaogui, 17, a sports major at Guizhou's Kaili College who took the male 60 m and 100 m titles, explains, "The most difficult part is keeping your balance. I fell in the water several times when I was practicing."
Hu trained for half a year, daily, for seven or eight hours each time. His first contact with the sport came only in 2008, when he came in third in a competition in his hometown near Guiyang, the capital of Guizhou.
"This was the first time for me to join a national game. I was nervous at first, but once the contest began, I got excited," he says enthusiastically.
He says the secret to keeping your balance is to control the bamboo with your waist while standing up straight. He often uses a big ball for practice, using one foot to keep balance.
"It's an all-round exercise that keeps you healthy, but it's taking time to promote it to the whole nation because it's a regional game in Guizhou and is done on a river. Not every place has such facilities," chimes in Chen Liyong, 36, a referee.
Chen goes on to explain that, in Zunyi, a city 144 kilometers from Guiyang, men and women in their 50s still use single bamboo trunks on the river, but few young people can do it.
Fortunately, the ethnic games have gotten more young people interested in the exotic sport.