From MICE to men in Hawaii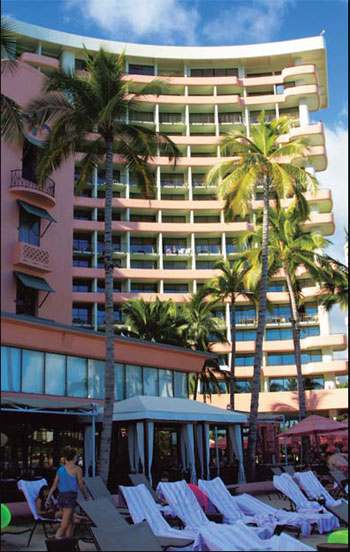 The Royal Hawaiian, a Luxury Collection Resort, is elegantly situated on the Waikiki oceanfront. Liu Weifeng / China Daily
Hawaii hospitality and MICE (meetings, incentives, conferencing and exhibitions) representatives are happy to announce the convention center is prepared to host delegates and visitors during the APEC leaders' meeting in November.
"The Chinese delegation is expected to be the largest among the Asia-Pacific regions, with 500 to 700 people," Randall M. Tanaka, chief operating officer of the Hawaii Host Committee, says during a recent visit to Beijing.
Tanaka, who is also assistant general manager of the Hawaii Convention Center, a landmark MICE destination for dozens of international conferences every year, says the center has a capacity of 25,000 people. The number of hotel rooms at Waikiki, the commercial beach area in Honolulu, is 28,000.
"APEC represents a tremendous opportunity," Tanaka says. "It should help enhance our business meeting brand."
About 55 percent of the convention center's meetings are international. The APEC leaders meeting will take place from Nov 12-13, but the week will be packed with supplementary meetings, including the APEC Concluding Senior Officials Meeting, APEC Finance Ministers Meeting, Annual Meeting of the APEC Business Advisory Council and APEC Chief Executive Officers Summit.
Hawaii Lieutenant Governor Brian Schatz says the center is where "East meets West and business meets aloha".
The United States will take advantage of the opportunity of chairing APEC in 2011 to highlight the vast potential that the Asia-Pacific region holds for US companies, to shape the future of Asia-Pacific's regional architecture and to promote APEC's core mission of mutually beneficial regional economic integration.
Schatz led a small group of host committee members to visit Beijing late last month and had fruitful talks with the China Council for the Promotion of International Trade, which facilitates the attendance of some of the Chinese delegates.
The Hawaii Tourism Authority says the number of Chinese tourists visiting Hawaii will reach more than 91,000 in 2011. It was about 66,000 and 42,000, respectively, in 2010 and 2009.
Visitors from the US mainland and Japan are the top three sources of tourists, followed by Canada, Oceania and Europe. More than 1 million visitors from Japan go to Hawaii every year.
David H. Uchiyama, the vice-president of the Hawaii Tourism Authority, who is in charge of brand management, says its strategy is to tap the Chinese market via South Korea and Japan.
There are 21 daily flights arriving in Honolulu from China via Japan. Direct flights from Shanghai to Honolulu by China Eastern Airlines were launched in early August.
China Daily
(China Daily 08/27/2011 page13)