36 hours in Honolulu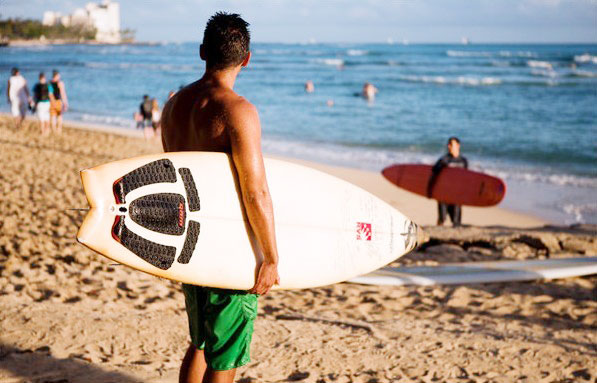 Honolulu brims with summer's delights. Surfers watch the breaks on Waikiki Beach.[Photo/The New York Times]
Honolulu has never been hotter, and not just because it's July. The city's "it" factor has been on the rise since President Obama announced, two years ago in Singapore, that his self-described "home state of Hawaii" would host the 2011 Asia-Pacific Economic Cooperation forum. This November, the 21-nation Pacific Rim summit may bring as many as 10,000 people to Waikiki, the renowned Honolulu destination on Oahu's south shore. While the city primps for the media glare, it also brims with summer's delights. Mangoes and sweet summer fruit add splashy colors to the market stands. Pikake, puakenikeni, gardenia and tuberose grace Chinatown lei stands, and Hawaiian music spills onto beaches from sunset-drenched oceanfront lounges.
Friday
4 p.m.
1) A SPA WITHOUT WALLS
There's nothing better than a summer moment at Kapiolani Park, the 300-acre recreational magnet at the foot of Diamond Head, the volcanic tuff cone and landmark the Hawaiians named Leahi. Work up a sweat with the joggers and rugby players while white terns soar above the ironwoods. Top that off with a sunset swim across the street, at the beach fronting the New Otani Kaimana Beach Hotel.
6 p.m.
2) HAWAIIAN TUNES
Sandy feet are not an anomaly at Duke's Restaurant and Barefoot Bar (2335 Kalakaua Avenue; 808-922-2268; dukeswaikiki.com), where the stars of Hawaiian music play nightly at sunset. Maunalua, a trio offering contemporary Hawaiian music, usually plays on Fridays, and the guitarist-vocalist Henry Kapono, the self-proclaimed "wild Hawaiian," is the Hawaiian-rock attraction on Sundays. The open-air spot has a vintage surfer feel and wall-to-wall tributes to the Olympic swimming legend Duke Kahanamoku. Parking is expensive, but there's no cover charge.
7:30 p.m.
3) THE PALATE-PLEASER
Philippe Padovani, one of the 12 original founders of Hawaii Regional Cuisine, opened Padovani's Grill earlier this year, just in time for the 20th anniversary of the culinary movement. Fans love him for his designer chocolates, masterful sauces, signature clam chowder (Manila clams, sweet corn from Oahu's north shore and a soupçon of island seaweed) and risotto (truffle oil and several types of mushrooms). There are special touches across the board, including made-to-order sauces for the seafood and Black Angus beef dishes. The chef pays equal respect to vegetarians, with an excellent goat cheese ravioli and fricassee of mushrooms. For dessert, try the tarte Tatin and bourbon crème brûlée. A three-course dinner without drinks costs $55 to $65.
9:30 p.m.
4) FROM TATTOOS TO DRAGONS
The indie jazz scene is thriving at the top of a steep stairway in Chinatown, in a former tattoo parlor the size of a cozy living room. Some of the best musicians in town gather at the Dragon Upstairs (1038 Nuuanu Avenue; 808-526-1411; thedragonupstairs.com) to jam and entertain in grand bohemian style. Most nights it's the spectacular Japanese/local contemporary jazz pianist, Satomi Yarimizo, with her drummer and bass player. Because many in the audience are musicians, there are surprise performances galore in a seriously music-loving room.