Peninsula's attractive tourist sites make it a popular destination
To raise the province's profile in the eyes of Taiwanese, the Shandong government will hold a number of tourist promotions in Taiwan, July 11 to 17.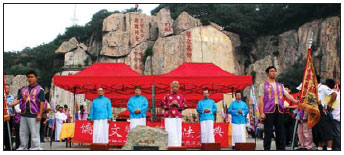 Confucian scholars from Taiwan at a cultural activity on Taishan Mountain, last July.
The focus will be on Shandong's 100 must-go scenic spots, 100 must-taste delicacies, and 100 must-have souvenirs.
The old town of Taierzhuang, in Zaozhuang is being highlighted at a special conference to be held in Taipei's Agora Garden, on July 12.
This two-square-kilometer town sits near the only well-preserved hydraulic works on the Grand Canal, and the government is putting 4.8 billion yuan into restoring it to its previous glory during the Ming and Qing dynasties.
The town is surrounded by water and has some classical bridges, an old water transport system, wetland parks, temples, museums, and the architecture of a bygone era.
It is also the site of the Battle of Taierzhuang, an important victory during the Anti-Japanese War. It was the choice of the State Council's Taiwan Affairs Office, as the first base for cross-Straits exchanges, in 2009.
It is considered an important contact point for economic, political and cultural exchanges across the Straits and has seen more than 1.5 million visitors since it opened in May, 2010. These have included prominent Taiwanese celebrities, such as Lien Chan and Wu Poh-hsiung, honorary chairmen of the Chinese Kuomingtang.
Also on July 12, the Taipei World Trade Center will see the first issue of a photo album, with the work of photographers from Shandong and Taiwan, to provide a window on the province for Taiwanese.
They will also have a chance to taste some typical Shandong dishes, including a Confucius Family dish, stretched noodles, and bobo, a wheat bun that is about four times the size of that Chinese staple, the mantou, or steamed bun. It is a traditional food in Shandong for the Spring Festival, especially in the eastern part.
Yu Chong, director general of the Shandong Tourism Administration, will head a delegation seeking to promote ties with Taiwan and sign an agreement with the Taiwan Visitors Association on July 14 to promote Shandong-Taiwan tourism.
"Shandong has attractive tourist sites and a rich culture so it has become a popular tourist destination for Taiwanese," Yu told China Daily.
Last year it had more than 193,000 Taiwanese visitors.
Many of its attractions have a special appeal to Taiwanese, such as Qufu, the hometown of Confucius, China's great philosopher (551-479 BC); the spring city of Jinan; the kite capital, Weifang; and Taishan Mountain, where emperors worshipped in the distant past, Yu added.
Shandong and Taiwan have 20 major cities and 32 travel agencies that have agreements on exchanging programs and visits.
Shandong's Jinan, Qingdao, Weihai, and several other cities have partnered with Shandong Airlines to provide Taiwanese with 100 preferential tickets and 100 free guest rooms through a lucky draw.
Last May, the two signed an agreement on 100 tourist projects, and Shandong pledged to get more than 30,000 of its people to visit Taiwan within the year.