Ready to say 'aloha'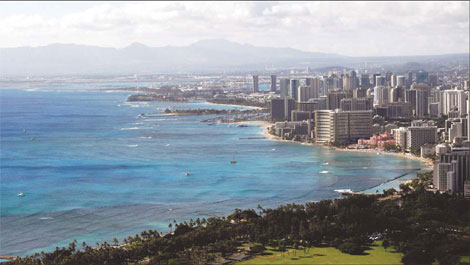 A panorama of Honolulu, Hawaii, captures both its famous beaches and its commerce. [Photo/China Daily]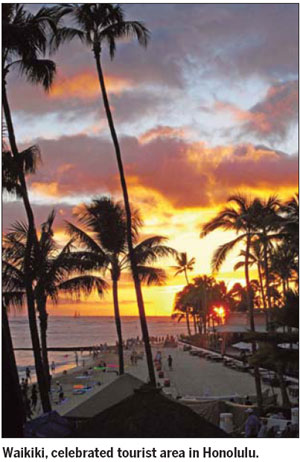 Chinese tourists eye Hawaii's natural beauty and shopping bargains, but yearn for a direct flight. Wang Kaihao reports.
'I will miss my beautiful days in Hawaii forever," says Xu Xiaolei, 29, an office worker from Beijing who traveled to Hawaii last August. Xu is just one of approximately 66,000 tourists from the Chinese mainland who traveled to Hawaii in 2010. That's a jump of about 35 percent compared with the 2009's data of 49,000, according to the statistics of the Hawaii Tourism Authority (HTA), the lead state agency for Hawaii's tourism industry. The agency also predicted that the number will hit 82,000 by the end of this year, a 24 percent increase.
"There are not only beautiful beaches, but also a multi-cultural atmosphere and nice people," Xu says.
One problem bothers Xu and tens of thousands of other Chinese travelers: There's no regular direct flight from China to Hawaii. Most mainland tourists have to transfer at Inchon Airport in South Korea or Narita Airport in Japan.
"Though the Chinese market for Hawaiian tourism saw significant growth in recent years, it has still been limited due to the lack of nonstop direct flights from China to Hawaii," says Jadie Goo, a tourism brand manager of HTA.
Thirteen regular direct flights from Japan land at Honolulu International Airport in the capital of the state every day, bringing 1.2 million tourists in 2010 and accounting for 17 percent of total annual visitors to the state of 7.1 million.
"It's still premature to have scheduled direct flight connecting China and Hawaii," says Mike McCartney, the president and chief executive officer of HTA. "The visa issue is most crucial reason, and no one can make the commitment yet."
Though US and China signed a memorandum of understanding in 2007 to facilitate Chinese visitors to obtain US travel visas, one may still have to wait for more than a month for an in-person interview to get the prerequisite for a tour to Hawaii.
As the visa issue is not what the tourism managers from both countries can do, they have endeavored to offer tourists more convenience - charter flights.
China Eastern Airlines scheduled three first-ever charter flights to Honolulu this January and February, around this year's Spring Festival.
These three tours were operated by China CYTS Tour, one of the major travel agencies in China, who declared it "just lifted the curtain for American market," according to Gao Zhijun, vice-president of the company.
"Another nine charter flights are coming before next year's Spring Festival," HTA's tourism brand manager Goo tells China Daily. "Currently, we plan to have five in summer, three during the National Day holiday, and three for next Chinese New Year."
Goo thinks this volume of travelers could stimulate carriers to consider a scheduled nonstop flight in the future.
"Still, both sides are hopeful," McCartney says. "Travel creates peace, common understanding, and mutual benefits."
One thing may accelerate the path to Goo's expectation: The APEC summit will be held in Honolulu in November, when President Hu Jintao will visit Hawaii.
"This once-in-a-lifetime chance for Hawaiian tourism also gives our confidence for Chinese market," McCartney says. "Maybe this will also contribute to solve the visa problem long-term."
Hawaiian tourism officials have an eye on newly booming markets as travelers from Japan, the largest source of international visitors, have dropped from a peak of 2.1 million in 2006. Twenty-eight percent fewer Japanese tourists came to Hawaii this April compared with April 2010, in part a reflection of a decline in Japanese tourism after this year's devastating earthquake and tsunami. Though HTA believes that the number will recover by the end of this year, McCartney would like to diversify the sources of international visitors.
"The early Chinese immigrants in the 19th-century created modern-day Hawaiian culture," says an emotional McCartney, who also has Chinese blood. "For them, Hawaii, a bridge connecting China and America, is a home far away from home."
Apart from their psychological attachment, Chinese tourists' bulging purses also challenge the cumbersome status quo.
According to statistics of HTA in January released on the Honolulu Star Advertiser, the largest daily newspaper in Hawaii, "Chinese visitors are expected to spend an average of $368 per person per day this year, compared to just $275 per day for every Japanese tourist." In addition, the average daily spending for all Hawaii tourists is $178.
As China CYTS Tour mentioned in its brochure, Hawaii is a "high-end destination."
In addition to the famed Waikiki Beach and the historical site of Pearl Harbor, Chinese tourists will probably not hesitate to step into luxury retailers like Louis Vuitton, Prada, Coach, Chanel and some other labels that are well-known in China.
"All of these brands are available in Beijing but not available for many white-collars like me because of the prices," says Xu, who bought a Coach handbag in Honolulu. "However, they are really a bargain in Hawaii."
In May 2010, Bank of Hawaii, the largest locally owned bank in Hawaii, signed a joint marketing agreement with China's Union Pay to allow credit- and debit-card holders to use their cards at the Hawaii bank's automated teller machines and merchant terminals.
Former governor Linda Lingle, who was in office until last December, went to China for four times during her eight-year tenure to create more Chinese business and tourism presence in Hawaii.
Approximately 90 officials and representatives of travel business groups from China and the United States will gather at the US-China Travel Summit on Hawaii Island. The biggest isle in the archipelago will host the meeting this September to draw a blueprint for future development of tourism.
"It took more than a decade to set up today's Japanese market," said McCartney. "It will be a process for China also."