Six and counting for revitalized Rangers
NEW YORK - The New York Rangers have gone from an awful start to being the hottest team in the NHL, notching a season-high sixth straight win on Saturday.
The Rangers scored two second-period powerplay goals en route to a 4-2 victory over the Edmonton Oilers en route to their fifth straight triumph at Madison Square Garden.
"We went out there tonight knowing that they are struggling on the penalty kill," defenseman Kevin Shattenkirk said after he extended his point streak to seven games.
"We just tried to expose them the best way that we could. We worked for each other to get in the spots that were open and made some good plays."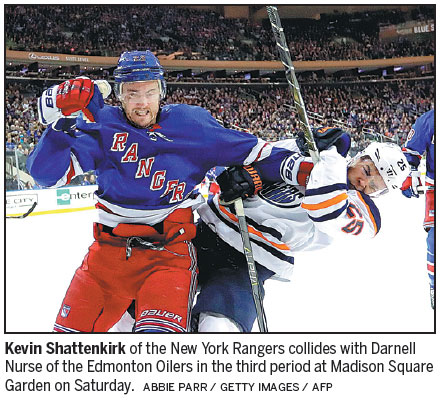 Rick Nash scored twice, Mats Zuccarello picked up two assists and Pavel Buchnevich had a goal for the Rangers.
Henrik Lundqvist made 26 saves and Ryan McDonagh registered an assist for the fourth consecutive game.
Jesse Puljujarvi and Connor McDavid scored for the Oilers, who fell to New York for the fourth consecutive time.
Nash scored the eventual game winner when defenseman Brady Skjei found him darting toward the back post at 18:53 of the second period. McDonagh also assisted on the play.
"We kind of talked about that play before the game and we knew there's going to be a chance it would be open," Nash said of his powerplay goal.
"Brady and I talked about it and he made a great pass. You just try to build a wall with your skates and your stick and you hope it hits something.
"When you get a goalie like Cam (Talbot), we know him pretty well. He challenges hard, so sometimes he leaves that backdoor play open."
New York jumped in front when Nash and Kevin Hayes completed an odd-man-rush at 12:19 of the first period. Nash extended his point streak to six games against the Oilers.
"I just look to see what stick the defenseman has, when it's a lefty on lefty, you just wait for him to move his stick," Hayes said of the two-on-one opportunity.
"You just got to wait out the goalie, then make your decision from there."
Puljujarvi, playing in his first game of the season since being recalled on Friday from the AHL, tied the score 1-1 at 16:26 of the first period.
Skjei and Buchnevich each had difficulty clearing the puck from the defensive zone and eventually Ryan Nugent-Hopkins controlled the loose puck. He delivered a soft backhanded pass to Puljujarvi before the wrist shot.
McDavid added a powerplay goal in the middle frame, extending his point streak to three games.
The 2017 Art Ross Trophy winner as the NHL's leading scorer notched the winning goal against the New York Islanders and set up the OT winner against the New Jersey Devils in Edmonton's two previous games.
"They were able to get two quick ones," Oilers coach Todd McLellan said. "They do such a good job in the neutral zone of clogging things up that it's hard to come back against them."
Buchnevich scored for the third time in as many games when Shattenkirk delivered a cross-ice pass to set up the one-timer at 15:10 of the second period.
Michael Grabner added an empty-netter with 1.4 seconds remaining.
Talbot made 30 saves for Edmonton.
After a disappointing 3-7-2 start, the Rangers can look to a third-period rally on Oct 31 against the expansion Golden Knights as an early turning point in the season.
New York trailed 4-2 at the end of the second period against the Golden Knights, then scored four unanswered goals to kick off its winning streak.
"The things we want to do have stayed the same," Rangers coach Alain Vigneault said.
"There's no doubt that we're executing better over the past half-dozen games. With that execution, it doesn't lead to costly mistakes and we've been able to build off that and keep it going."
Associated Press