Celtics keep it goin'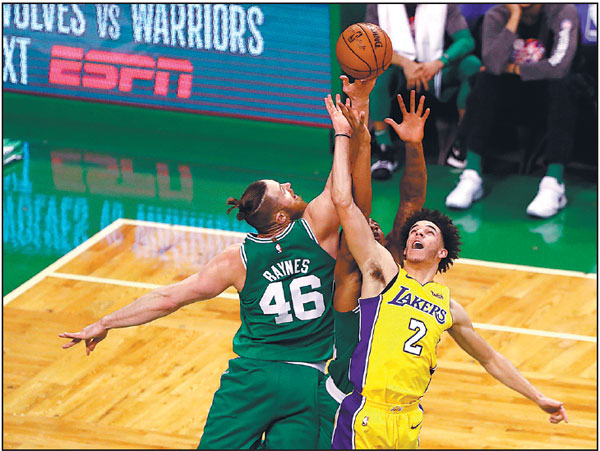 Aron Baynes of the Boston Celtics and Lonzo Ball of the Los Angeles Lakers battle for possession during Wednesday's NBA clash at TD Garden in Boston. The Celtics won 107-96.Tim Bradbury / Agence France - presse
Boston wins 10th in a row despite growing list of walking wounded
BOSTON - The Celtics are piling up injuries almost as quickly as they are victories this season.
Aron Baynes matched his career high with 21 points, Kyrie Irving scored 19 and Boston overcame injuries to Al Horford and Jayson Tatum to beat the Los Angeles Lakers 107-96 on Wednesday night for its 10th straight victory.
Baynes also had eight rebounds and three assists as the Celtrics improved to 10-2 even as Horford sat out after being placed in concussion protocol earlier in the day.
Boston then lost rookie forward Tatum late in the second quarter, when he went to the locker room with a sore right ankle.
Coach Brad Stevens said Tatum had X-rays and was fitted with a walking cast as a precaution. He will be reevaluated on Thursday.
It's yet another blow for a team that lost Gordon Hayward for the season after a gruesome leg injury on opening night.
"Until we have only four left, I guess we're just gonna keep playing," Stevens said.
Boston led by 20 in the second quarter before letting the lead shrink to two in the third.
The Lakers then struggled down the stretch, shooting 5 of 18 from the field with six turnovers in the final period.
Brandon Ingram and Jordan Clarkson led Los Angeles with 18 points each, while Julius Randle had 16 points and 12 rebounds.
Celtics fans gave rookie Lonzo Ball an icy welcome in his first trip to TD Garden. They booed the No 2 overall pick throughout the night whenever he touched the ball. He finished with nine points, six assists and five rebounds, making just 4 of 15 from the field.
With Tatum sidelined in the second half, Boston struggled defensively, and the Lakers exploited the paint for several easy buckets.
"They hit us in the mouth and we were kind of shocked," Kyle Kuzma said. "The second quarter and the second half, we fought back."
Irving also got banged up and had his right leg examined by trainers between the third and fourth quarters.
He came back with just over six minutes to play and immediately made an impact, scoring back-to-back baskets to push Boston's lead back to 100-90.
The Celtics led by 48-28 in the second quarter but were outscored 24-13 over the final 6:51 of the half to let the Lakers back into the game.
'Got a big mouth'
Celtics forward Marcus Morris thinks fans should ease up on Ball.
"He's a good kid; it's his dad that's got a big mouth, everybody knows it," said Morris.
"It kind of sucks that he's gotta go everywhere and they just boo and boo and boo him. He's a regular player. They should cut him some slack."
Ball claimed he was upset by the booing.
"They're the home fans. I'd boo me too if I was a home fan," he said.
Rivalry rewind
Lakers coach Luke Walton said this generation of players views the Celtics-Lakers rivalry differently than those around for the 1980s match-ups.
"I think some of them get it, more than others," he said. "Guys like Lonzo that grew up in LA, I think if you grew up in either one of these cities, you're probably pretty well schooled on the rivalry.
"For some of these young guys, they probably don't know much about it."
Celtics fans chanted "Beat LA!" after Walton was whistled for a technical foul in the third quarter.
Celeb sightings
New Red Sox manager Alex Cora, New England Patriots players Devin McCourty and Dion Lewis and rapper DMX were in attendance.
Associated Press
Most Popular
Highlights
What's Hot