Thompson, Curry pick up the slack
OAKLAND, California - Steve Kerr will never wish for a star player to sit injured the way Kevin Durant did against Minnesota on Wednesday night.
Still, the Golden State coach saw a lot of encouraging signs from the supporting cast with the NBA Finals MVP nursing a bruised left thigh.
Klay Thompson scored 28 points with six 3-pointers, Stephen Curry had 22 points, eight assists and eight rebounds as the Warriors whipped the Timberwolves 125-101 for their fifth straight triumph.
Even without Durant, the defending champs began to look like their dominant selves behind another strong defensive performance.
"Five guys helping and communicating, talking ... it was a thing of beauty tonight," Curry said of the defense.
Draymond Green posted a another balanced effort with seven points, six rebounds, six assists and two big blocks for Golden State.
Andre Iguodala started in place of Durant, and the 2015 Finals MVP scored a season-high 11 points.
The Warriors notched a season-best quarter with 44 points in the third to pull away after leading 51-50 at halftime.
"I actually kind of like these games when we have to sit somebody," Kerr said.
"We have so much talent, we can afford to miss one of our main guys. It's good for the team, it's good for morale, it's good for individual development - and it forces the group to play together when you're missing one of your main guys."
Andrew Wiggins, who in 2014 became the first Canadian drafted No 1 in the NBA, scored 17 points and Karl-Anthony Towns had 16 points and 12 rebounds as the Timberwolves had their five-game winning streak snapped.
This marked the first regular-season matchup between the teams after they played a pair of exhibition games in China last month.
It's the first time they faced off with each atop their respective divisions. Only three times previously had they played both with records of.500 or above.
"We got humbled tonight," Minnesota's Taj Gibson said. "That's the kind of level we want to get to, the way they're playing over there."
Thompson shot 11 for 20 overall and 6 of 12 from long range. Omri Casspi added 13 points and two steals.
Golden State had to overcome another cold start on offense, shooting 8 for 22 in the first quarter - 4 of 10 on 3s.
Two days earlier in a win against Miami, the Warriors shot 36.8 percent and 11 of 32 from beyond the arc.
Associated Press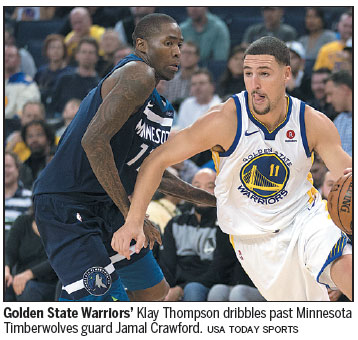 (China Daily 11/10/2017 page24)
Most Popular
Highlights
What's Hot