Moyes more stick than carrot in opening gambit
LONDON - David Moyes warned under-performing West Ham players to "step it up" or face the axe as he appeared before the media for the first time as Hammers manager on Wednesday.
The former Everton and Manchester United boss replaced Slaven Bilic on Tuesday and faces a tough task to turn around the fortunes of the east London club, mired in the Premier League relegation zone.
Moyes has already overseen two grueling training sessions since he was appointed.
Questions were raised about the fitness levels of the players under Bilic, with statistics showing they were far below average when it came to sprints and distance covered.
But Moyes, who is in talks to bring in no-nonsense former West Ham, Nottingham Forest and England defender Stuart Pearce - nicknamed 'Psycho' during his playing days - as part of his coaching staff, said there would be no easing up on his watch.
"If you are asking me where my best attribute is, it's out on the grass training with players, but we need the players to show it," the Scot said.
"Once they know they are running the least and sprinting the least they need to take responsibility.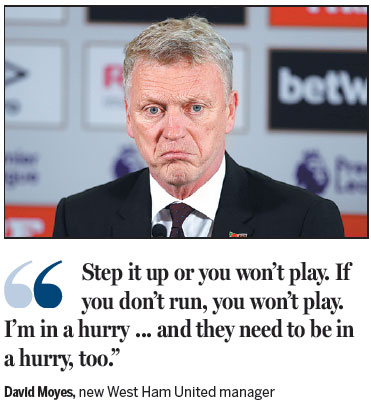 "The sessions will be tough for them but hopefully they will enjoy it too. We are working them hard and trying to get the best we can out of them."
Moyes, who believes he needs to rebuild his reputation after a number of managerial failures, said the players are anxious to showcase their worth and stressed he wants to see them bust a gut on the training pitch.
"Step it up or you won't play. If you don't run, you won't play. I'm in a hurry... and they need to be in a hurry, too," he said.
Moyes has been hired until the end of the season, with a clear brief to pull the club away from relegation trouble.
"It's good for us both," said the 54-year-old. "It's good for me because I'm back in, it's what I do and want to do well. I think it's good for West Ham as well, they've got a good manager.
"Managers aren't now having long-term contracts so I'm more than comfortable. If I'd taken over at the start of season, I'd have said a year at the time.
"It gives me a chance to see the east end of London, to see the players and let West Ham see what David Moyes can do.
"My ambition at the moment is only short term, I have to win games, get us away from the wrong end of the table - and the squad is good enough."
Moyes managed Everton for 11 years before leaving the club to replace Alex Ferguson at Manchester United in 2103, but was dismissed after just 10 months in charge.
He also had a disappointing stints in Spain with Real Sociedad and back in England with Sunderland, which was relegated from the Premier League by the end of his reign.
"I do have a point to prove," he said. "Sometimes you have to repair things and maybe I've got a little bit to repair."
Agence France - presse
(China Daily 11/10/2017 page23)
Most Popular
Highlights
What's Hot