Marathon effort from wheelchair racers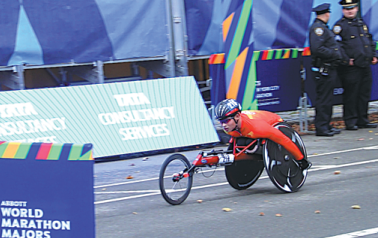 Chinese wheelchair racer Zhang Yong competes during the 2017 New York City Marathon on Sunday. JUDY ZHU / CHINA DAILY
Four Chinese wheelchair racers were invited to compete in the 2017 New York City Marathon on Sunday, and two of them finished the course for the first time in history.
Chinese paralympics champion Zou Lihong, 33, ranked fourth place and became the first Chinese woman wheelchair racer to finish the 42.2-kilometer race in a time of 2 hours, 3 minutes and 20 seconds.
On the men's side, three Chinese wheelchair racers were invited to race for the first time, and Zhang Yong, 25, finished the course in 1 hour, 50 minutes and 51 seconds.
The other two competitors, Dai Yunqiang and Song Lei, had to drop out at the 40 km mark due to flat tires.
Last year, Zou was invited to the event after winning the gold medal in the women's marathon at the Rio Paralympics in the summer, where she narrowly beat Tatyana McFadden, a US marathoner who had swept 17 straight victories in major marathons, including last year's.
However, her right rear tire went flat halfway through the run at the 21 km point and could not be repaired.
This year, despite not being in the best physical condition after catching a cold, Zou came back with three other teammates and was better prepared.
"We tested our tires with two months of training in Shanghai ahead of the race. New York City's road situation is very different, and we paid extra attention to avoid tire damage. All we wanted was to finish the race," Zou said.
Huang Peng, head coach of the Chinese Wheelchair Racing Team, said: "Our Chinese athletes are good at track races, but we don't have much experience in city marathons. We tried our best to train and prepare so that our athletes can be better at wheelchair racing in the future."
Zou said their performance will break new ground and bring more opportunities to young Chinese athletes to compete worldwide.
"The marathon is also a sport about spirit. We can always make a record if we don't give up."
The New York City's mayor's office reported that more than 2 million people turned out this year to watch more than 50,000 runners from 125 countries compete.
Among them, there were also some Chinese volunteers.
"The marathon is becoming fashionable in China and around the globe. It encourages an environmental-friendly lifestyle. I hope to see more Chinese racers next year," said Tina Wu, a sports business major at NYU.
Most Popular
Highlights
What's Hot